Global revenue from artificial intelligence is expected to grow rapidly from $643.7 million in 2016 to $36.8 billion by 2025. And by the looks of things, ecommerce brands will take a fair share of the pie.
As the e-commerce sector progresses, incorporating artificial intelligence into e-commerce relationship management tools is becoming more vital. These advanced solutions are transforming how digital enterprises engage with their audience, streamlining essential operations, tailoring experiences for each user, and refining sales tactics.
In today's rapidly evolving e-commerce sector, partnering with foremost AI companies is increasingly vital. Such collaborations introduce revolutionary AI advancements, capable of reshaping customer engagement and optimizing business processes.
By exploring the varied solutions offered by these trailblazers in AI, e-commerce businesses can arm themselves with the necessary tools to navigate and excel in the fast-paced world of online commerce.
Utilizing AI-enhanced relationship management tools, online retailers can secure a competitive advantage by deeply comprehending and addressing the varied preferences of their digital clientele.
Thanks to chatbots, artificial intelligence isn't just for cutting-edge tech companies like IBM Watson and Google. Chatbots can come with a mix of natural language processing, machine learning, and live operators to perform all sorts of tasks that help businesses better serve their customers. They're growing in popularity on Facebook Messenger, Skype, Slack, Kik, and other messaging platforms.
Many brands are already using them to better communicate with their target audience, provide customer service, recommend products, and drive sales. Just check out these statistics from a recent Ubisend report to help realize the potential:
1 in 5 consumers would consider purchasing goods and services from a chatbot;
40% of consumers want offers and deals from chatbots;
Consumers are willing to spend more than $400 through a chatbot.
Chatbots do more than just offer a new channel for people to find deals and make ecommerce purchases. They also help consumers identify what products they want and need.
Still can't picture it? Maybe you haven't tried any of these chatbots yourself. To get a look, here are just 10 of the many cases where ecommerce brands use chatbot AI to reach their audience, provide customer service, drive sales, and more.
Sephora
Nothing can beat the experience of chatting with a Sephora associate about your makeup needs in person, but the Sephora chatbot on Kik (a popular messaging app) comes pretty close.
When you open it, it prompts Kik users to provide a few key details about themselves in the form of a quiz that takes seconds to complete: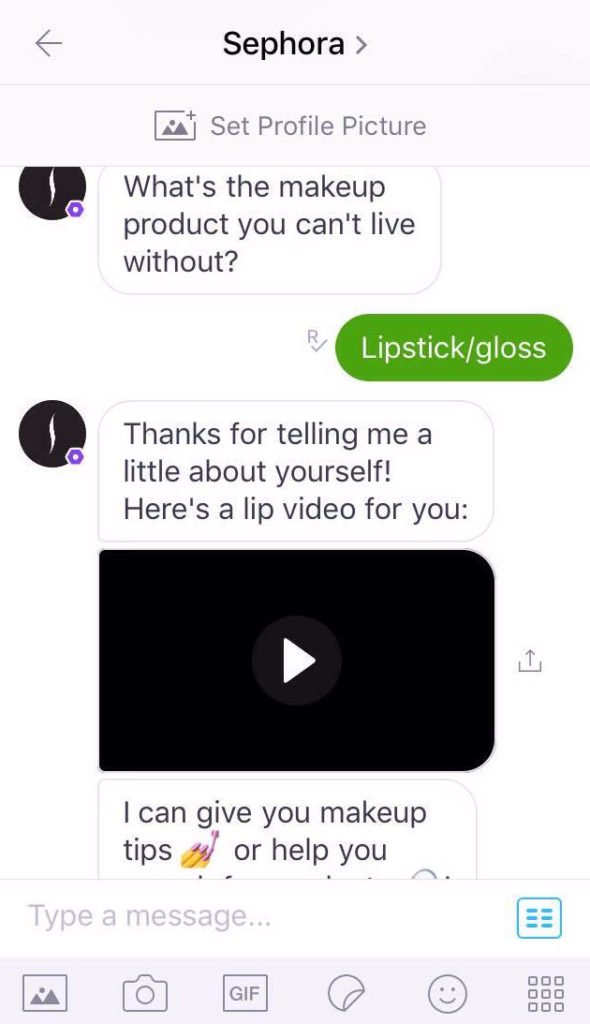 Then you can move on to browse products, get personalized beauty tips, and more. The Sephora bot will even ask targeted questions about your tastes to provide the perfect product recommendations, just like a real sales associate. Then, Kik users can make purchases without ever leaving the messaging app.
The Kik chatbot isn't the only example of how Sephora is using AI to better connect with and sell to customers online. They also developed a chatbot called the Sephora Virtual Artist on Facebook, that allows people to try on different lip colors using selfie photos.
Sephora's chatbots are helping consumers find deals and make purchases, but also make fashion choices and find products that meet their unique style and tastes. That's something a simple ecommerce website doesn't offer.
And while Sephora has yet to release any hard numbers about the impact their chatbots have on ecommerce sales, everyone's optimistic. Beerud Sheth, CEO of Gupshup, recently said, "A chatbot can dramatically increase sales for a brand like Sephora that has a wide variety of SKUs. Chatbots act like the in-store sales assistant, always available, instant, highly knowledgeable".
In the world of online shopping, ecommerce businesses are continuously looking to enhance their customer interactions with the aid of AI. With this evolution, there's a growing necessity to verify the credibility of content produced by these AI-powered platforms.
To ascertain the dependability of data delivered by these systems, a multitude of enterprises are now relying on cutting-edge solutions such as the AI checker. This AI checker meticulously assesses the authenticity of the content, fortifying the bond of trust between brands and their patrons while reaping the advantages of automation.
eBay
eBay first started using chatbot technology by piloting a simple Facebook Messenger tool that reminds bidders 15 minutes before an auction listing is about to end. That way, they can remember to get a last-minute bid in.
Now they've expanded to offering ShopBot, a virtual personal shopping assistant that helps people find items they want (at the price they want) on eBay.
All you have to do is type in some details about what you're looking for (e.g. women's hiking shoes under $75). eBay will ask you all the relevant questions to find the perfect fit, style, and color for you.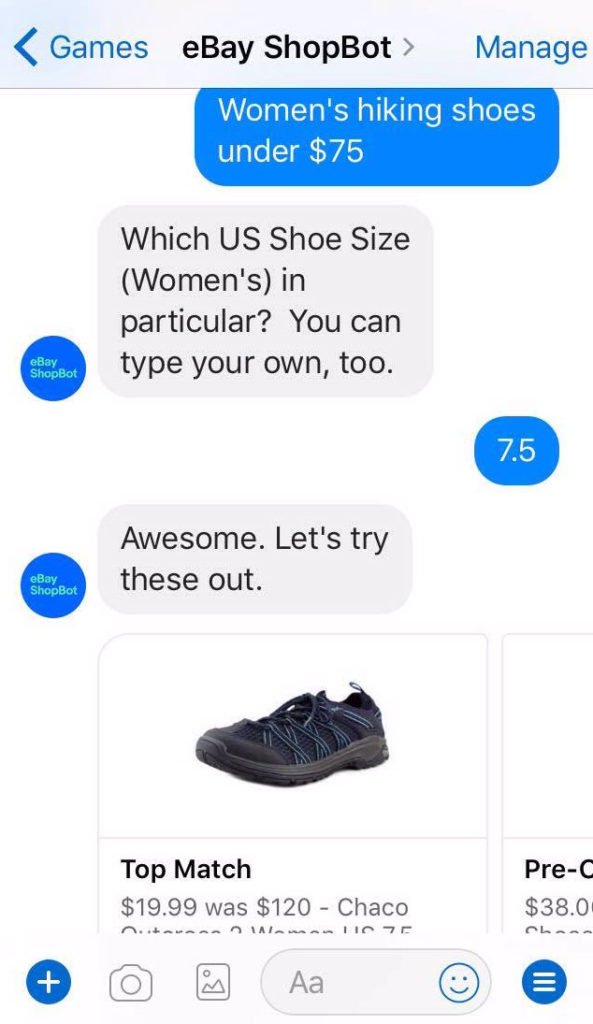 Since its launch, Shopbot users are nearly three times more likely to ask questions about specific products than those browsing eBay's inventory. It's another great example of how AI can improve the shopping experience beyond what a regular ecommerce site has to offer. In the end, it improves engagement, retention, and can drive sales.
SnapTravel
SnapTravel is a Facebook Messenger bot that helps people find deals on hotels. All you have to do is type in your travel city and dates to receive recommendations. Then you can book hotels right in Messenger.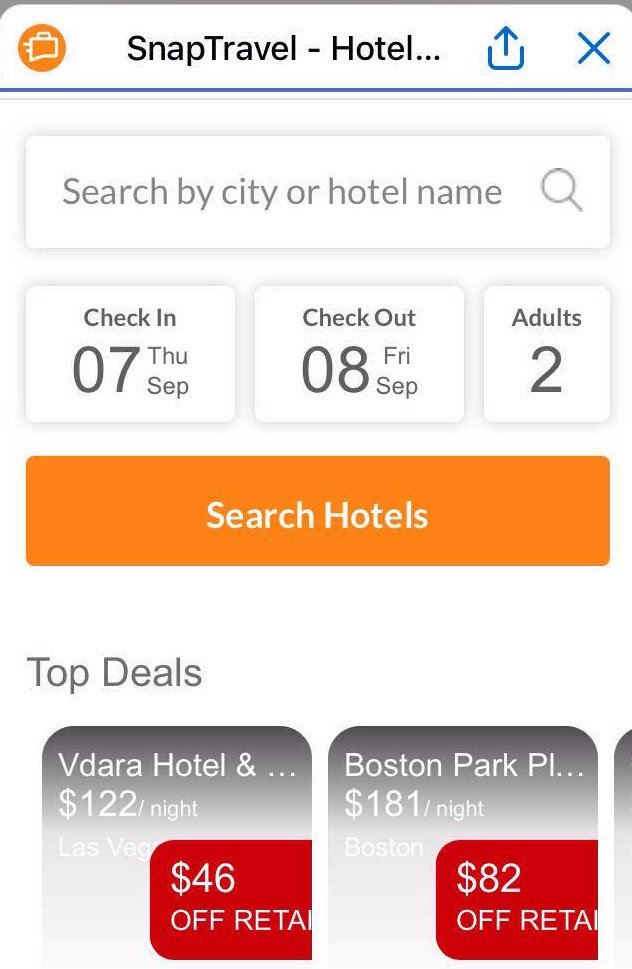 The tool offers special deals only available through the app, and if you ever need, they have real agents on standby 24/7 to help with your travel plans.
But you probably won't need any extra help to find a hotel with this bot. You can find just about everything you need by answering the bot's questions about your trip.
Using AI to search Expedia, Priceline, and more than 100 other sites, SnapTravel goes above and beyond by helping automate the process of finding the right hotels for your travel needs.
Aerie
Clothing and lingerie retailer Aerie by America Eagle Outfitters is another early developer of chatbots for the Kik messaging app. Considering they're a popular brand among younger Millennials and Gen Z, it makes sense they would be quick to jump on the new technology.
Their bot allows users to browse products based on personal preferences, like a lot of other ecommerce bots. But the really unique feature is their THIS or THAT option – users are shown an image of two different styles and simply have to press "This" or "That" to narrow down their tastes and find the right product.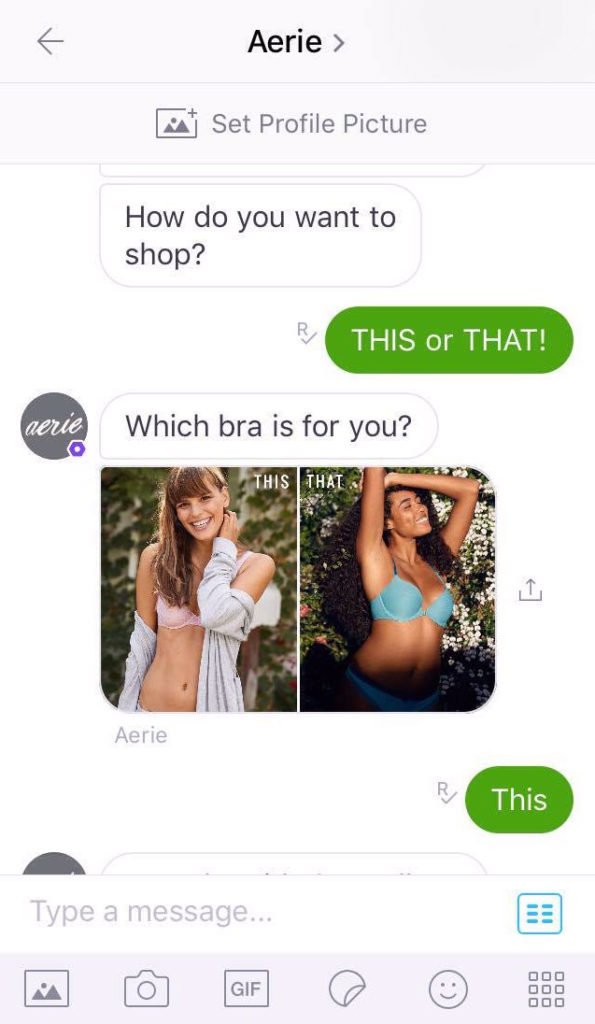 After a few rounds of the game, the bot is able to make personalized recommendations based on your style preferences. Shoppers visiting Aerie's ecommerce store wouldn't receive the same benefits, and as a result, would likely purchase less (or not at all).
AEO's chief technology officer confirmed the benefits in a press release, "Within weeks, our chatbots have acquired more than double the average number of users we add monthly across all social channels combined. We're thrilled to see the high rate of adoption of our chatbots and the benefits they are bringing to our customers."
1-800-Flowers
1-800-Flowers was one of the first bots on Facebook Messenger. It serves as a great example of how older brands can benefit from adopting new technologies early on.
Just like with their phone-in service, their bot allows users to send flowers and gifts. It prompts you to select items based on the kind of event (birthday, romance, anniversary, etc) and offers suggestions for different gifts.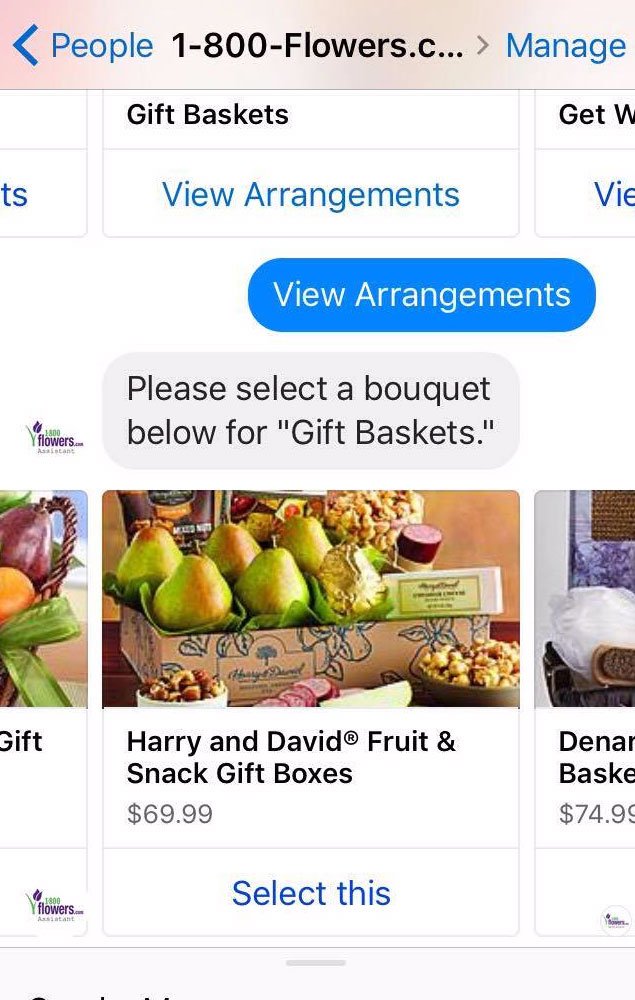 Then you can purchase the flowers and receive shipping updates right from the app.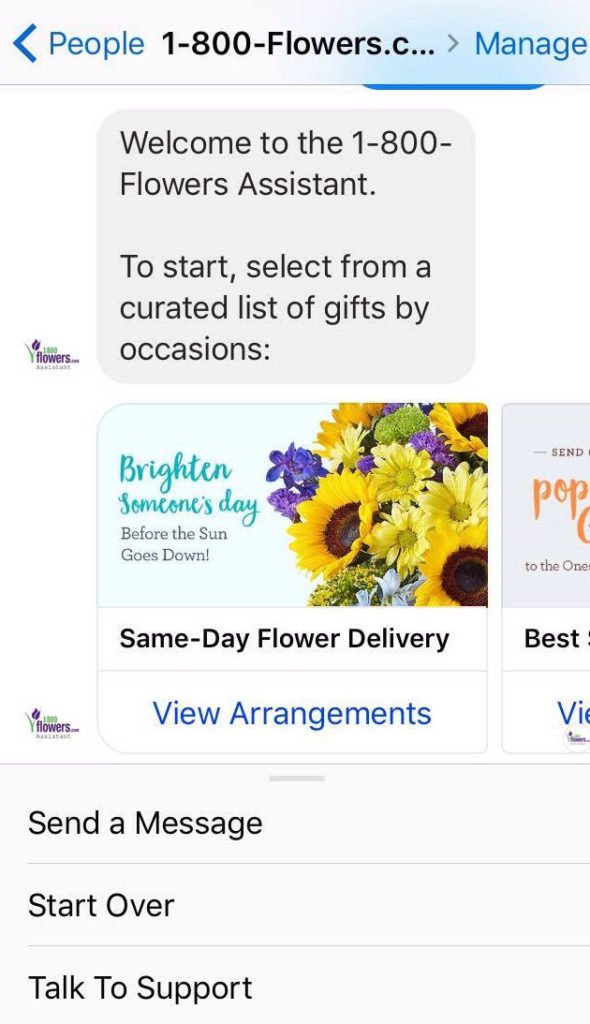 1-800-Flowers has a lot to offer shoppers beyond your average bouquet. The app makes it easier to browse and discover the right gift ideas based on the occasion. Shoppers have to dig for this themselves on a regular ecommerce site.
Spring Bot
Spring Bot was one of the first to launch on Facebook Messenger. It's a live messaging and personal shopping service that fashion brands can use to connect with customers. Brands like Balenciaga, Givenchy, and Lanvin use the tool to sell to customers.
The bot starts by asking a few multiple-choice questions, such as: What are you looking for today? (Women's or men's items), and What's your price range? (Under $75, $75-$250, over $250).
You can make purchases right from the bot and it will give you receipts, shipping information, and answer any other purchase-related questions.
The experience is a far cry from what traditional ecommerce sites have to offer. Neda Whitney, group account director at R/GA, said, "There are a lot of things that luxury brands can do in digital to ensure they have that high-touch feel. One major feature is the online concierge customer service live chat. The luxury clientele expects a certain type of experience when they walk into the store, and this translates that online".
H&M
Clothing brand H&M developed an interactive bot for the Kik messaging app that recommends products based on your own preferences. It starts out by asking you to select photos of clothing that you like. Then it asks you to pick your personal style: Casual, Boho, Preppy, Classic, or Grunge.
The H&M bot uses photo options and asks questions about your style to create a comprehensive profile of what you like (and what you think you like). Once it creates a style profile, you can use the bot to create your own outfits, vote and browse outfits created by other users, and shop.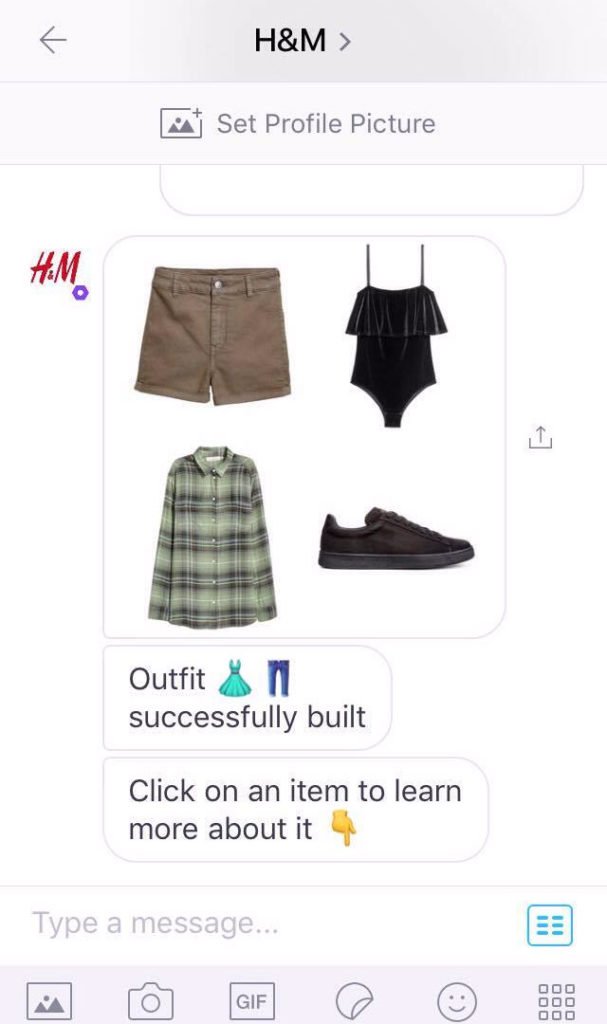 The H&M bot doubles as a fashion advisor and public forum to rate style. There's nothing like the opinions (votes) of others to influence your shopping decisions. Brands that rely on an ecommerce store alone miss out on this opportunity to drive sales.
Pizza Hut
Did you know Pizza Hut sold their first pizza online before Amazon sold its first book? The franchise continues to be a trailblazer in adopting new technologies. The latest is their chatbot.
As of last August, customers can order pizza simply by chatting with Pizza Hut on Facebook or Twitter messenger. You can save your favorite pizzas to reorder with the touch of a finger.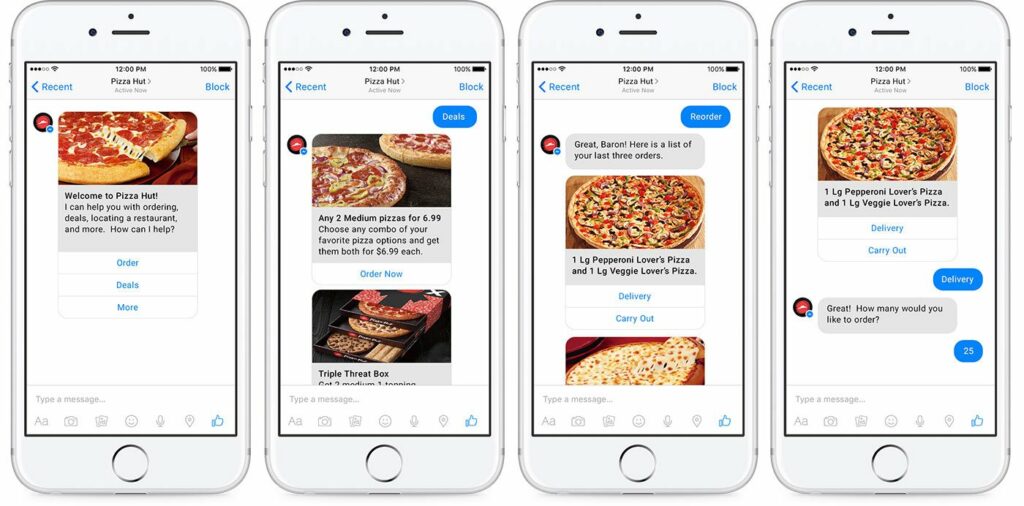 The bot also offers customers answers to frequently asked questions and info about their latest promotions. All you have to do is like their Facebook page (or follow their Twitter profile) and set up your payment information.
It's all in an effort to make it easier to order pizzas, and it works. Customers don't have to call, visit a mobile site or download an app. Just send out a message like you're chatting with a friend. Since pizza is often an impulse-buy, a bot like this is a valuable asset to help improve sales.
Burberry
British clothing brand Burberry may be 161 years old, but it has its eye on the future by adopting new technologies to reach their audience. Burberry launched its chatbot for Messenger during Fashion Week September 2016. It started out as a tool to give people a behind-the-scenes look at their September collections.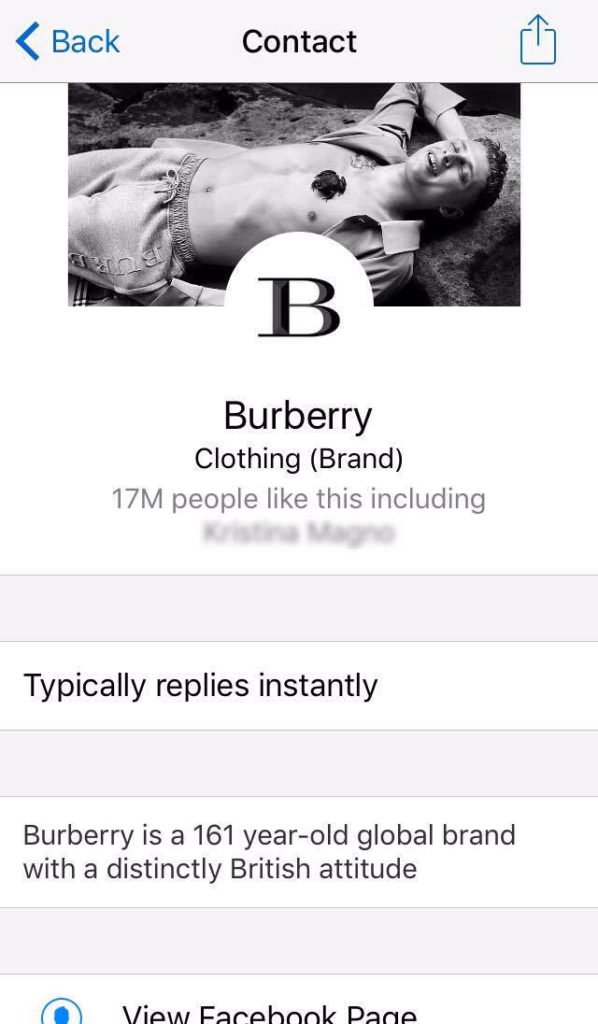 The chatbot has been evolving since then. In November it introduced options to explore gifts and pre-order pieces. In February, it started inviting Facebook fans to follow their runway show live.
Now the bot is set up to answer customer service questions and help you browse the collections. If you want, you can also live chat with a Burberry consultant.
In the dynamic world of e-commerce, the emergence of chatbots represents a significant leap in how brands interact with their customers. These sophisticated digital assistants, when thoughtfully integrated into an e-commerce platform, do more than just answer queries; they transform the shopping experience.
Imagine a chatbot that not only guides a customer through a curated selection of products but also offers personalized style advice or updates on upcoming promotions. This level of interaction creates a more engaging, responsive, and memorable shopping journey.
Since it's a luxury fashion brand, Burberry customers benefit a lot from in-store visits for fashion advice. Shopping blindly from their ecommerce store doesn't cut it. Thanks to the bot, customers are able to access many of these same benefits right from their mobile phones.
Trim
Trim is a fintech startup that first launched their chatbot on SMS. They since expanded to Facebook Messenger.
The bot is ultra-simple—Trim scans your bills for recurring subscription charges, then asks users if they want to cancel a subscription. All you have to do is write back "Cancel gym," "Cancel Dropbox," or "Cancel [Insert Subscription]" and you're done.
Now, this bot isn't where Trim really makes their money. They also offer services to renegotiate your monthly bills, then take a cut from the money you saved.
The simple, free unsubscribe bot has become really popular on Messenger, helping Trim introduce new users to the brand, grow their customer base and market their paid services. According to CEO Thomas Smyth, Trim has a 94% retention rate.
Trim's value proposition is about making it easy to save money on expenses. You don't want to do this manually on the phone or by visiting a website. Turning the tool into a bot affirms this value proposition and attracts new users.
Conclusion
These 10 ecommerce brands are just a few of the many already adopting chatbots to reach their target audience, build a better brand presence, provide customer service, drive sales, and grow their business.
If you're still not convinced that Messaging apps are the best place to reach your audience, then check out this data: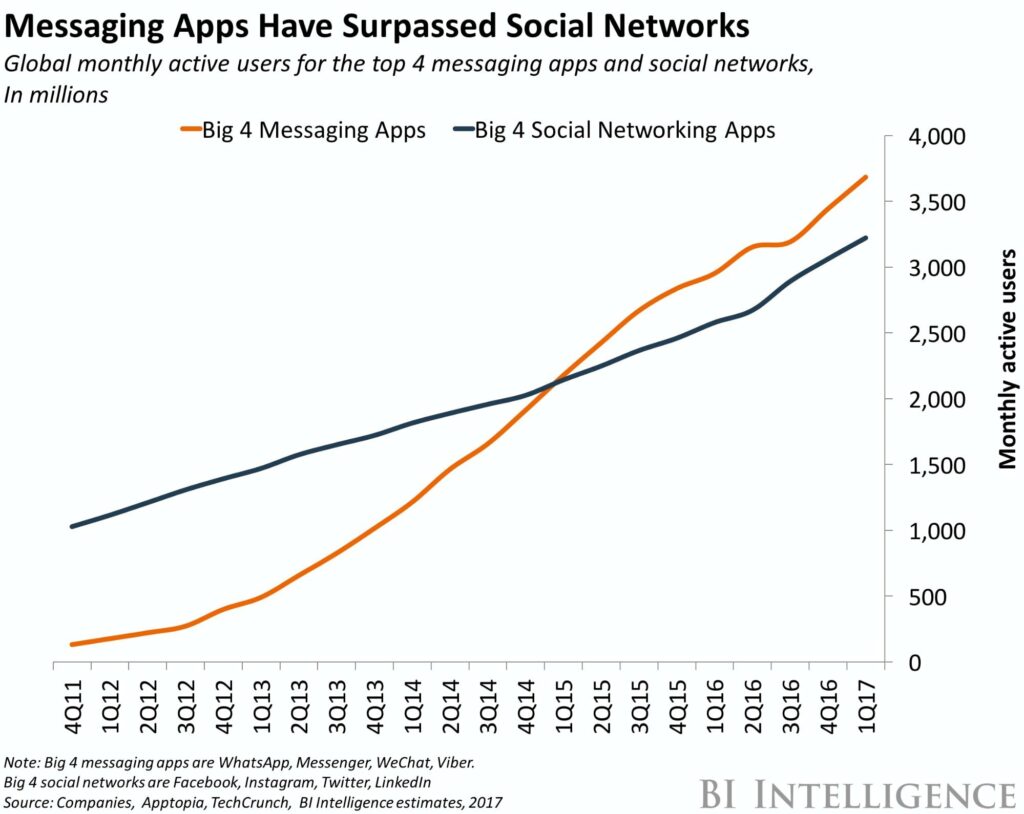 Last year, Business Insider reported that messaging apps now have more users than social media networks. And the trend continues to grow.
People like communicating via messaging apps. Brands who cater to this preference are bound to see more business success in the long run. And, as all these examples illustrate, chatbots can do more to drive sales than a regular ecommerce site, even if it's mobile-friendly.
Building your own unique branded chatbot will take some creativity, but there are many services out there that can help you get started without touching any code, such as Chatfuel, Morph.ai, or Botsify.
You can even start with something as simple as a rule-based chatbot that answers basic customer service questions, then expand to more complex operations, like helping customers find the right products based on their style and needs. If you want to seriously attract new customers from messaging apps, try coming up with a novel feature that impresses, like eBay, Trim, Sephora, and others have done.
They serve to drive an important point home: chatbots are a bandwagon other ecommerce brands need to jump on if they want to stay competitive in the long run.