Understanding how to retain the customers that you have spent money acquiring is vital for any online business.
Attracting a new customer can cost five times as much as keeping an existing one, so companies need to pay as much attention to retention as they do to acquisition.
Here are 21 tactics ecommerce firms can use to keep customers coming back for repeat purchases, and avoid losing them to competitors…
Customer retention: the stats
Increasing customer retention rates by just 5% increases profits by 25% to 95%. (Bain & Co);
Attracting a new customer costs five times as much as keeping an existing one. (Lee Resources 2010);
Globally, the average value of a lost customer is $243.(KISSmetrics);
71% of consumers have ended their relationship with a company due to poor customer service. (KISSMetrics);
The probability of selling to an existing customer is 60 – 70%. The probability of selling to a new prospect is 5-20% (Marketing Metrics);
According to our Cross-Channel Marketing Report 2014, 82% of companies agree that retention is in fact cheaper than acquisition;
The Cross-Channel Marketing Report also found that marketers are more focused on acquisition than retention.
Q: Is your company more focused on acquisition or retention marketing?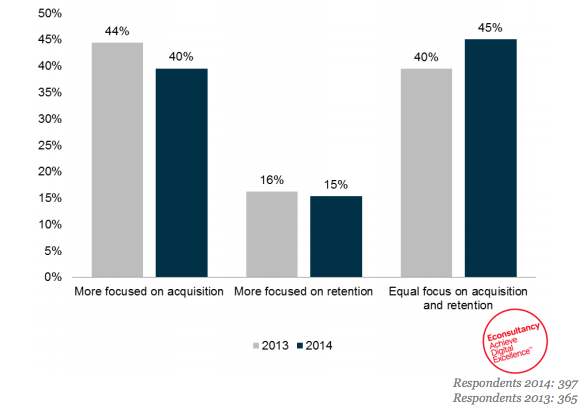 So how do you increase customer retention?
Of course, the fundamentals are important. Among other things, you need a great product, you need the right kind of pricing (not necessarily the cheapest), and to offer excellent customer experience.
As the stats above suggest, customer service is all important, but rewards for loyalty and personalised, relevant offers also work well.
Here are 21 tactics to improve customer retention rates..
The importance of delivery for retention
Get the last mile right
Delivery can be a pain for online retailers. They may sell great products, provide an excellent online experience, yet the final step in the process is often in the hands of third parties who don't necessarily share the company's values.
Here, a reliable courier and close monitoring of service levels helps, but you can also keep customers informed on the progress of their delivery and make the process as convenient as possible.
For example, after a recent order from IKEA, I had three text reminders about delivery, then a four hour slot. I also recieved a call from the driver an hour before the package arrrived.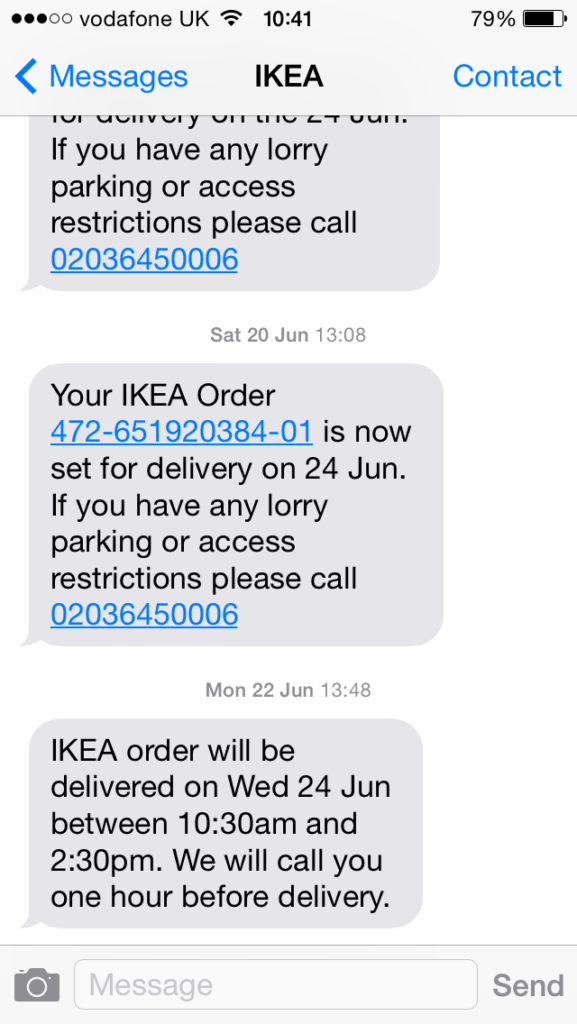 This miminises the risk of missed deliveries, and keeps customers informed.
Get the packaging right
Not all retailers have complete control over the delivery process, but they can ensure that the packaging has that 'wow factor', as in this example from Burberry: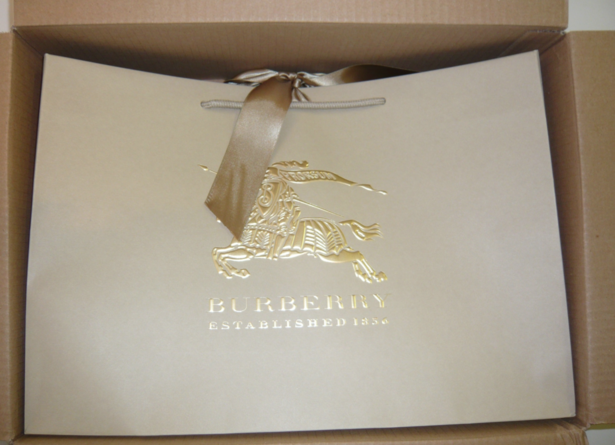 You could also add little extras and surprises, a tactic used by Glasses Direct among others. According to its founder Jamie Murray Wells:
We have always relied upon word of mouth recommendations from customers, so we add little gifts to orders, provide a little extra service, and try to surprise and delight our customers. This is the best form of marketing for us.
Offer fast delivery options
Retailers should never underestimate the 'want it now' mentality. If customers know that they will receive goods quickly when they order, they'll keep coming back.
Set and beat customer expectations
This is vitally important, as delivery issues are guaranteed to deter repeat purchases.
In a nutshell, it's about under-promising and over-delivering. While Zappos promises delivery within five business days, the majority of orders are shipped overnight.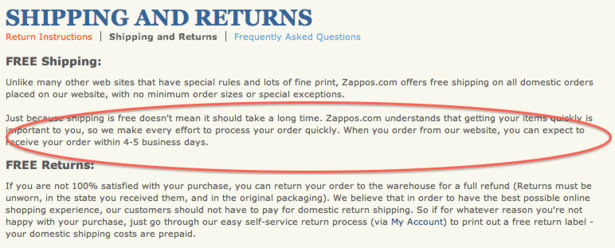 Registration and repeat purchases
Personalisation
Learn about your customers and present relevant products to them based on their preferences and buying history.
Persuade customers to register
Registration can be a pain, but if retailers can persuade customers to register without making it a barrier to purchase, then there are huge benefits in terms of retention.
They can track orders, receive special offers and, most importantly, repeat purchases are easier if delivery and payment details are saved.
Easy repeat purchases
Amazon's one-click payments are a big part of its success online, as it makes purchases incredibly simple so encourages shoppers to keep coming back. In combination with next day delivery via Prime, it makes it almost too easy to buy from the site.
It works by saving the customers card details and delivery address so they only have to enter a username and password.
It's also especially valuable on mobile as consumers don't want to waste time trying to enter credit card details on a smartphone.
Easy password/account retrieval
Most web users have so many passwords that remembering them all is almost impossible. This means that, if they haven't purchased from a site for a while, then a forgotten password can be a real barrier.
It shouldn't be any harder than submitting an email address and waiting for a password rest email. It often is though.
Amazon allows users to create a new account with that email address, which is one way of avoiding the problem, though it does disable the previous account.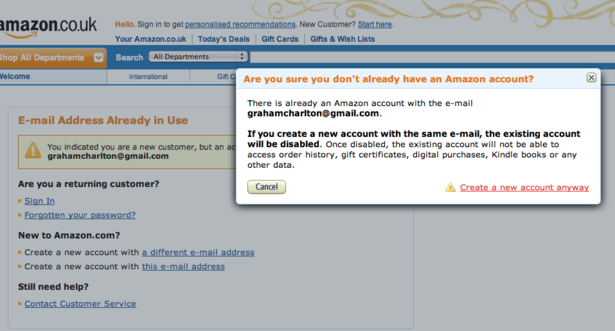 Customer services
Social media customer service
Offering great customer service via social media can help customers to avoid the pain of the call centre queue, and offer a more personal touch.
Here's an example from New Look. The level of personalised customer service offered is impressive.
@ChristopherRCLF Hiya Christopher. No online stock in a small. I can check your local store though. Let me know which stores? #NLBecky

— NewLookHelp (@NewLookHelp) September 19, 2014
@ChristopherRCLF Hiya Christopher sadly it's very low on stock. Keep checking the website as it's updated daily. Fingers crossed. #NLBecky

— NewLookHelp (@NewLookHelp) September 19, 2014
Improve email customer service
According to recent stats, email is the preferred customer service channel for 44% of consumers. However, email customer service is often poor, or non-existent.
Problems include the sheer length of time it takes many companies to respond and no reply email addresses which prevent a conversation.
Giving employees responsibility
One of the biggest gripes when calling customer services is the fact that, no matter how they may understand your issue, the staff have their hands tied by 'the system' and can only work within certain limits.
This means frustration for the customer, and the inevitable demands to speak to a manager. It's not good for employees either (I've been that call centre agent in the past) as they simply can't do the job properly.
The solution is simple: trust your employees and give them the responsibilty. The best staff will respect you for it and customer service will improve.
That's what Zappos does: staff can give people a free pair of shoes if they feel the situation merits it. No need to have people waiting for a call from their team leader.
Treatment of staff in general is important for customer retention too. If staff feel valued, they're more likely to deliver great service.
Answer customer calls
Call centres are massive sources of pain for customers. Indeed, 48% of consumers say it's the most frustrating customer service channel.
This can be due to poor service offered by agents (and I've experienced plenty of that) but also because it takes so long to get your call answered at times.
Brands like first direct, which often answers calls instantly, and normally within a minute, have a clear advantage over competitors just because they avoid pissing customers off by making them wait.
Offer free and easy returns
Offering free and convenient returns is a great way to persuade first-time customers to buy, but is also a great retention tactic.
If customers know they can return items easily if they change their minds, they are more likely to come back again.
Zappos reassures customers that they can return items easily, and free of charge, if they need to.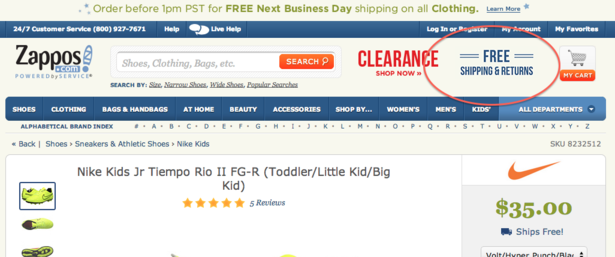 According to Craig Adkins of Zappos:
Our best customers have the highest returns rates, but they are also the ones that spend the most money with us and are our most profitable customers. Zappos' modus operandi is not to give its purchasers the cheapest footwear on the block, but to give them the best service: hence, a 365-day returns policy, and free two-way shipping.
On the flipside, charging for returns, though retailers have costs to cover, can deter customers from returning to a website. The cost of the return needs to be weighed against the risk of losing repeat business.
Looking at the right customer service metrics
In the past, I've worked at call centres where team leaders and management spent more time worrying about service levels and call metrics rather than whether or not customers actually received good service, which is what really matters.
In fact, staff were often told to manually note down customer details for a later callback rather than actually dealing with the problem there and then.
That may mean targets set by management are met, but it does nothing at all for the customer.
In contrast, Zappos focuses on metrics which measure whether the customer's problem has been dealt with, and whether agents have made a connection with the caller.
This is better for customers and staff alike.
Email marketing
Post-purchase emails
If a customer has just made their first purchase, this is a good time to follow up with a welcome email and some up and cross sell suggestions.
Birthday / event emails
Emails triggered by specific events, such as a customer's birthday, abandoned checkouts etc can be a very effective retention tactic.
Here, with my birthday around the corner, M&S has offered me a generous 25% off just about anything as a treat.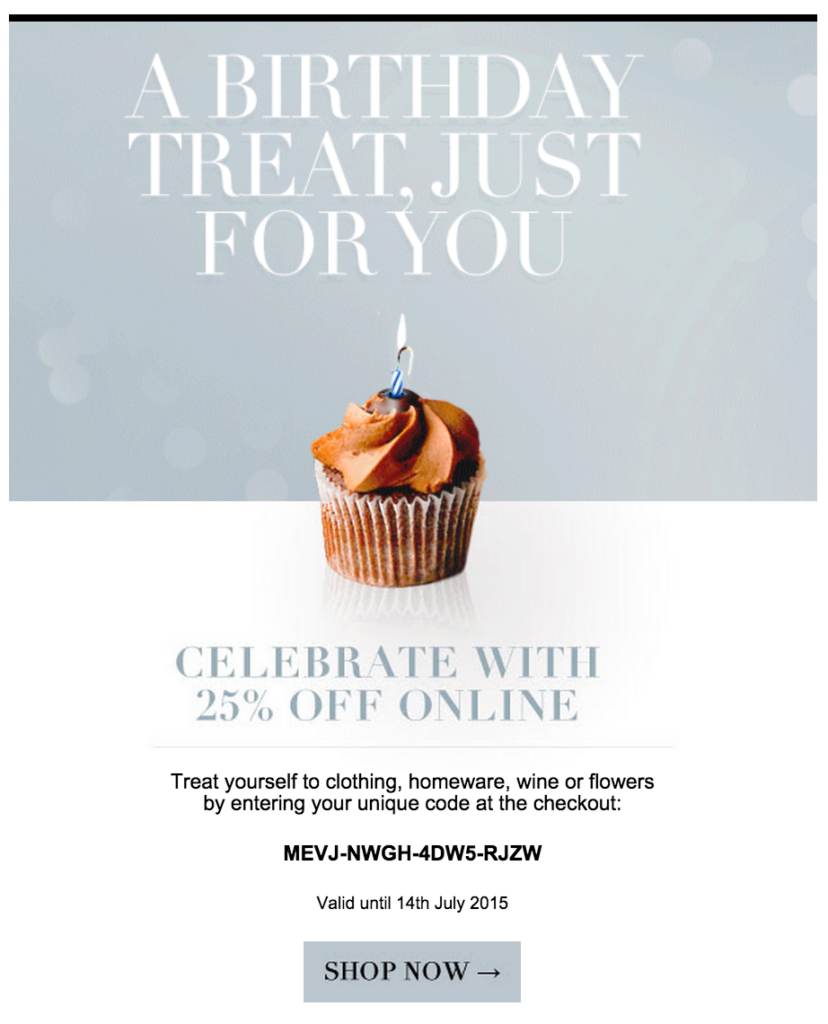 Reminder emails
If a customer hasn't made a purchase for a while, then a gentle nudge may be enough to tempt them back. It also helps to sweeten the email with a discount.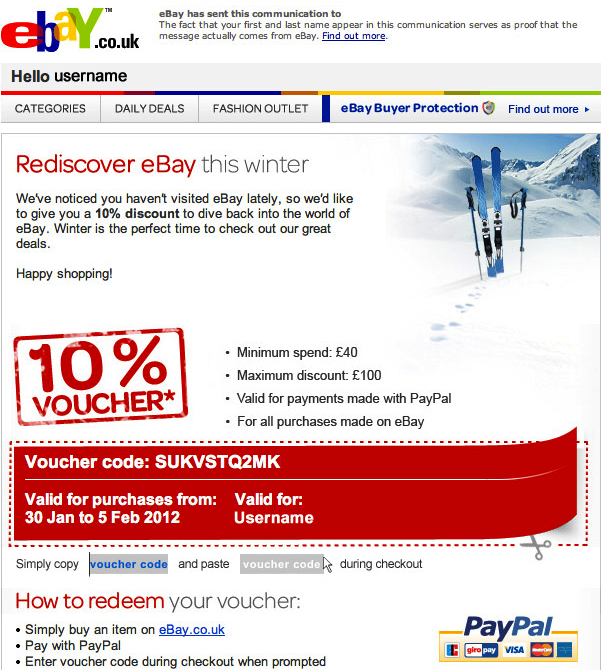 Rewards
Reward your most valuable customers
At our JUMP event in 2013, NET-A-PORTER head of marketing Neil Bridgeman talked about the attention it gives to its most valuable customers, it's EIPS (extremely important people).
These EIPs "represent an inordinate amount of revenue", and as such they're very well taken care of. Here's how:
Orders from EIPs are picked, packed and despatched first;
They are assigned personal shoppers and invited into the London office for wardrobe planning;
They get first choice of new products (some of which are very limited);
They receive personalised lookbooks and see exclusive previews and presentations;
EIPs have personal shoppers;
EIPs have products bought specifically for them by the buying team.
Offer rewards for loyalty
I was pleasantly surprised to receive a text from O2 recently, offering me a free gift for being a customer for four years. It was a £15 voucher (no strings attached) for the retailers mentioned.
Not a massive amount, but a nice gesture nevertheless.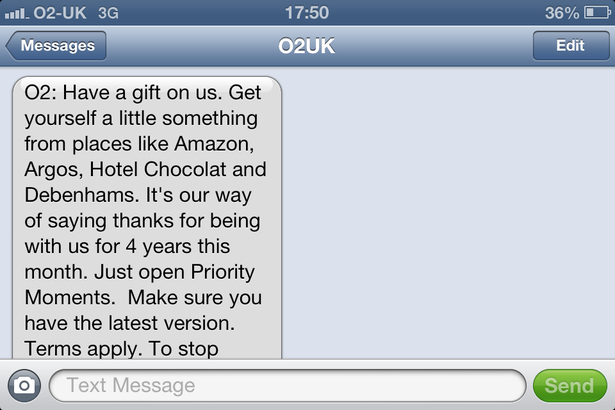 Refer a friend for gift vouchers / money off
This is a common tactic for financial sites. For example, first direct will credit your account with £100 for every friend you refer.
Naked Wines uses a similar tactic, offering a £40 voucher for friends, and crediting customers' accounts for their efforts.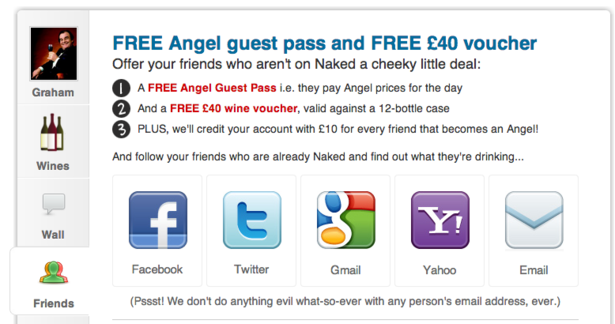 Offer exclusive deals for social followers
Luxury flash-sale site Gilt Groupe has been offering exclusive sales to Facebook fans. This gives people a real reason to keep coming back, and to use the brand's Facebook store.