Love it or hate it, email is one of the most pervasive communications tool around. In fact, the average worker checks their email 74 times a day! Just how many emails do people get every day?
How Many Emails Do People Get Every Day?
In 2015, 205.6 billion emails were being sent and received every day. (We don't have 2016's solid numbers yet.) That comes to just under 6.2 trillion emails sent worldwide in a 30-day period, and equals roughly 74-75 trillion emails sent last year around the globe.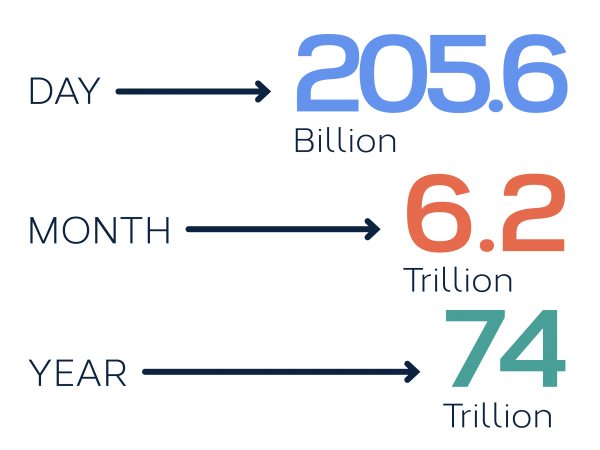 Worldwide, there are roughly 2.6 billion email users. Together, they own more than 4.3 billion email accounts – a ratio of 1.7 email accounts per user.
These users receive an average of 88 emails per day, but they only send 34 emails per day. That means people are getting more than 2.5X more emails than they're sending out!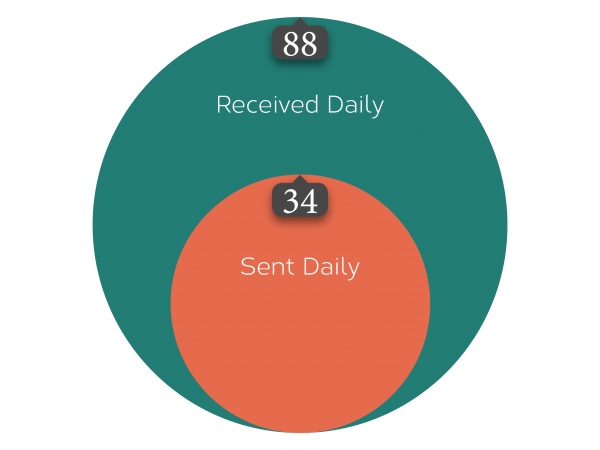 What Do Open Rates Look Like?
Email open rates are currently averaging around 30%, while click-through rates average 3.2% across industries. This means that about 1 in 11 opened emails gets a click-through.
Mobile is the preferred device for checking email, accounting for 54% to 70% of total email opens. In other words, unless your brand is atypical or targets an older demographic, you need to be focusing on mobile.
Spam messages (newsletters, marketing, promotions, etc.) account for half of all sent emails (49.7%).
When & How Do People Best Engage With Emails?
So much of the best time to send emails depends on your industry, and on what kind of emails you're sending. For instance, Saturday and Sunday are great for publishing and media companies.
50%+ of Americans admit to checking their phones in bed, and 79% of Americans check their phones within 15 minutes of waking up. Many of us feel an impulse to connect and check our notifications first thing. So people wake up, scroll through notifications, and start reading whatever content is interesting.
However, other studies have shown that Tuesdays are best for open rates, and that Thursdays are best for click-throughs. (These are typically business-related emails.) Fridays seem perpetually awful.
The best open rates and click-through rates vary by industry. For instance, bank and credit card emails have open rates of ~48% and click-through rates of 3.8%, while retail apparel emails have open rates of ~28% and click-through rates of 2.3%.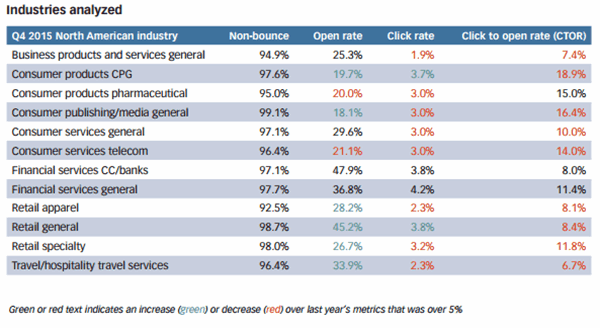 Epsilon Q4 Industry Benchmark Email Open Rates
The best time of day varies (of course), but you'll generally do well in 4-hour intervals. 6am, 10am, 2pm, and after 8pm get the best results.
One interpretation would say these are the times when people are looking for something to distract them. When they wake up, after they've worked for 2-3 hours, when the afternoon crash strikes, and when relaxing in the evenings.
10am holds the #1 spot, but again, all of this depends on your audience. If you're a cocktail brand targeting party-goers, 6am probably isn't a good time to send emails. But if you're an enterprise software targeting business VPs, 6am could be your oasis!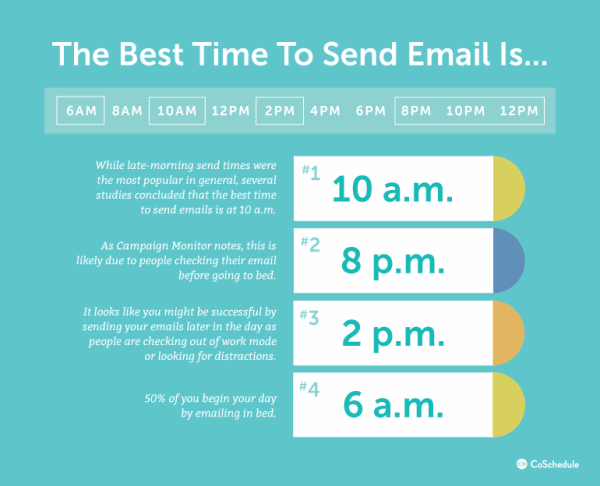 What's the Best Length for an Email?
You've only got 10-15 seconds to grab and keep someone's attention, so the quick answer is: short.
Based on an average reading speed of 200 words per minute, that gives you 30-50 words with which to captivate your readers. But that's not the whole picture.
The highest read rates reportedly come from emails with subject lines of 61-70 characters, which might account for emails containing articles and other content with long titles. Interestingly, subject lines with 2 words or less get higher open rates.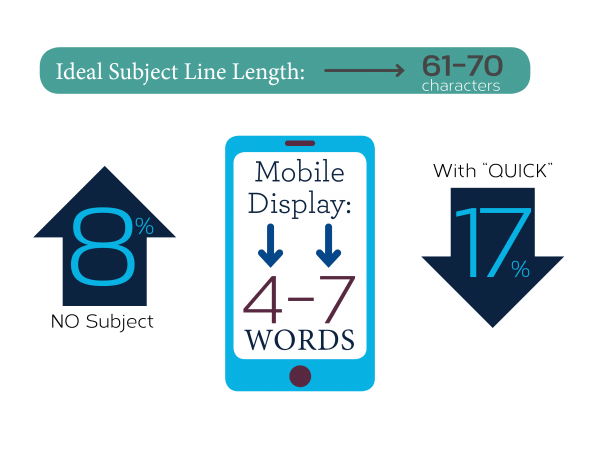 Subject lines featuring the word "quick" are opened at a 17% lower rate than those without. Since people tend to view email on mobile devices, and since those devices can only display 4-7 words in a line, the subject line "Question" could be a good fit for many intro emails. (It's certainly a popular choice.) So could your name, your company's name, or the name of your recipient.
Surprisingly, emails with no subjects at all are reportedly opened at an 8% higher rate than those with subject lines. Apparently it makes people curious.
Those with "Alert" in the subject line were opened at an almost 62% higher rate! Though, you can only use that trick sparingly, lest you become the brand who cried wolf.
Bringing It All Together
Email can be great, but too many people get too many emails. Think of the emails you send like tweets. Short, punchy, and images can always help.
Remember that mobile is key. Most importantly, you have to test everything you do! If you don't test between options and characteristics, you'll never know what your best campaigns could be, or what you're missing out on!