Companies often spend a ton of money to hire enthusiastic salespeople who are ready to close the deal. However, they need to generate more leads to keep the organization busy and repay the investment.
Most website visitors don't convert. However, businesses still have an opportunity to capitalize on web traffic by creating a lead capture form that really works. The design and structure of a lead capture page are critical to its success. Lead capture forms are data collection methods designed to collect consumer data that you can use to your advantage in the future.
Lead capture forms must fulfill two vital conditions; they must appeal to the emotional feelings of the consumer and attract visitors who are most likely to become buyers.
Generating high-quality leads that will convert into customers is quite difficult. However, if you do it right, it can help your business outperform your competitors and grow significantly.
What Is Lead Generation?
Lead generation can be defined as the process of attracting potential customers and turning them into consumers of your product or service. Companies can use different strategies to achieve lead generation. Lead generation is the first important step in the sales process. Essentially, it is about getting the attention of people who are likely to buy from you.
According to Ruler Analytics, 37% of marketers found generating high-quality leads to be one of their biggest challenges.
Why Is Lead Generation Important?
We all know that closing deals is an important part. Lead generation is the first important step in this process. Essentially, it's about getting the attention of the people who are most likely to buy from you.
Lead generation stimulates interest in a product/service and attracts potential customers in order to fill the sales funnel. Some of the most effective lead-generation activities today include digital marketing (including using SMS for texting links to your content), voice robots, cold emails, cold calls, SEO, engaging webinars, eBooks, paid search, social media, podcasts, and online advertising.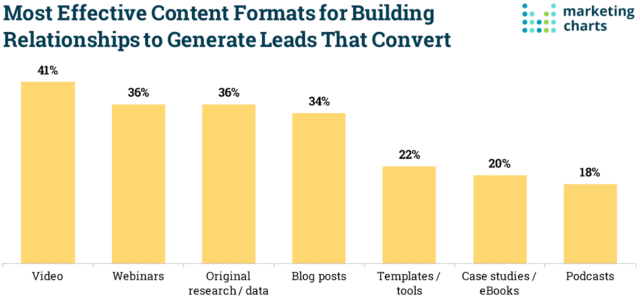 Source: www.marketingcharts.com
In this article, we will learn what tactics you can use to capture and generate leads.
9 Best Ways to Capture and Generate Leads
1. Attract Attention
If you're having trouble creating a lead capture form, place it where people will see it. Too often marketers place these forms at the bottom of an article or below the fold of a landing page. Most readers don't make it to the bottom of the page, and if your introduction doesn't encourage end users to scroll down the page, your efforts to create a lead capture page will be wasted.
The placement of your lead capture form is a key factor in the success of your campaign. Different types of pop-up ads are often used because they take up the entire screen. They are impossible to miss. However, a mistake online companies make when placing ads is to introduce them too early. When you do this, the forms get ruined. Internet users don't like that. If you do opt for a pop-up banner, customize it so that it displays when visitors are about to leave your site, not while they are browsing.
2. Use an Informative Headline
To grab the attention of consumers, the quality of the headline is crucial. People need to know exactly what they are seeing. If the headline is not explicit and leads them to the rest of the ad, they will immediately click away.
There are many ways to create compelling headlines in marketing. But when creating headlines for a lead capture form, get straight to the point. Provide specific information and tell exactly what you're offering. The subheadline expands on the headline and provides readers with additional information that explains what they can expect to get when they choose to subscribe.
3. Elicit Trust and Credibility
Trust is a serious problem for online shoppers. An online business is essentially a faceless business, and most visitors to your website have never heard of you. So why would they want to hand over their personal contact information?
The biggest challenge for advertisers is the saturation of the online marketplace. Moreover, too many brands are failing to deliver on their promises. Consequently, most consumers don't trust traditional advertising. To overcome this hurdle, include evidence to back up your claim or content that positions you as an expert in your field.
4. Reinforce the Benefits of Your Offer
Every marketer knows how to place the benefits of your product or services on their website. But few take steps to reinforce those benefits in other forms of advertising, such as landing pages.
Highlighting benefits is a means of informing new customers about what they can expect from your business. Repetition is a means of helping returning visitors realize that you're all about making things happen.
The lead capture page above is a good example of reinforcing benefits. This is another one of ours. In this case, we use a testimonial from an existing customer to qualify the claim we make at the beginning of the ad.
5. Make Your Offer Stand Out
A general rule of thumb in marketing is that you have 8 seconds to grab your audience's attention. In the case of lead capture forms, this statistic is much less.
If you fail to grab the attention of end users right away, they will leave your website or continue without leaving their details. Therefore, make sure that people see what you are offering right away. Use big bold letters that are clearly visible and don't diverge from the background image. Besides, use relevant visuals, like explainer videos, that reinforce your offer.
6. Use SEO to Increase Website Traffic
Use search engine optimization (SEO) to get your website to the top of search engine results pages. You need to be sure to target the keywords that people type in to describe your service or product. Setting up on-page lead capture can increase the number of leads from SEO. You shouldn't try to hack Google's algorithms to rank high with bad content. Since Google search is constantly improving, you should spend your time creating great content, like infographics.
To boost your SEO rankings, work on building good backlinks through guest blogging or other methods. You should also understand which keywords are important and target them with content.
7. Always Develop Your Network
Creating a net worth is an investment, and most people tend to have a specific goal in mind. Determine whether you want to gain new contacts, get leads or referrals, or get an invitation to a trade show.
People respond generously when others can be of service to them. Be creative in how you can help those you meet, and then they will be more willing to help you achieve your goals.
8. Offer a Trial Period
Consumers are more willing to share their personal information if they genuinely intend to make a purchase or if you offer them an incentive they can't refuse.
Use customer intentions to your advantage. By offering customers a free trial, you can expect to increase the likelihood of success of your lead capture form. There are good reasons for this:
consumer psychology can't resist something free;
trying before buying is an incentive that every consumer wants if given the opportunity;
free trials make a bold statement: this is your chance to prove that your product is better than the competition.
9. Don't Forget About Privacy Policy
Due to the rise in cybercrime and spam, consumers don't want to give brands their email addresses. It's not all marketing techniques, but adding a privacy policy to your lead capture page does go a long way to engender trust.