There are numerous studies that highlight how important site speed is for the user experience, but in truth it's something that should be obvious to everyone.
Nobody likes to wait ages for web pages to load, particularly when it's so easy to navigate to a competitor's site.
Yet page speed is still an issue for many website owners and they are potentially losing a huge amount of revenue as a result.
To shed more light on how slow site speed might be undermining not only the user experience on your site but also your conversion rates, I've compiled this useful list of case studies, stats, tips and tools…
People expect sites to loads in two seconds
Two studies by Akamai and Gomez are frequently cited in reports into site speed, although both are several years old now so it's likely that web users' expectations are even higher now.
The Akamai study, published in September 2009, interviewed 1,048 online shoppers and found that:
47% of people expect a web page to load in two seconds or less.
40% will abandon a web page if it takes more than three seconds to load.
52% of online shoppers claim that quick page loads are important for their loyalty to a site.
14% will start shopping at a different site if page loads are slow, 23% will stop shopping or even walk away from their computer.
64% of shoppers who are dissatisfied with their site visit will go somewhere else to shop next time.
The Gomez report published in 2010, Why Web Performance Matters, interviewed 1,500 consumers about their opinions and website speed. It found that:
At peak traffic times, more than 75% of online consumers left for a competitor's site rather than suffer delays.
88% of online consumers are less likely to return to a site after a bad experience.
Almost half expressed a less positive perception of the company overall after a single bad experience.
More than a third told others about their disappointing experience.
Slow loading websites cost retailers £1.73bn in lost sales each year
Research published in May by customer data platform QuBit surveyed 60,000 consumers across 80 websites, within a range of industries including retail, travel, technology, finance and publishing.
Using its Exit Feedback tool users were asked to comment on their experience at the point of leaving a website.
Of those surveyed, 8% cited slow loading pages as a key reason for abandoning their purchase. QuBit, which is run by four ex-Googlers, said it is unrealistic to assume all of these users would have completed their purchase.
Therefore it weighted the average conversion rate of web shoppers (4.35%) against the value of global online sales (£496bn). Based on this estimate, internet retailers could be losing out on £1.73bn each year.
The report also evaluated loading times for pages across a range of industries. It found that on average homepages took 3.50 seconds to load, although some were as slow as 15 seconds.
Product pages were the slowest, taking twice as long to load as homepages across the board.
Site loading times vs. the average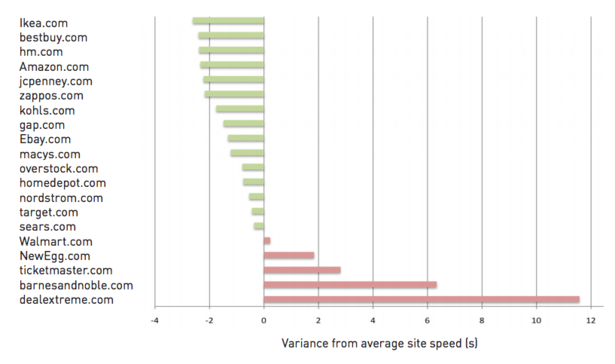 A one second delay in page-load can cause 7% loss in customer conversions
Tag management supplier TagMan ran a test in partnership with glasses e-tailer Glasses Direct to study page speed and conversion behaviour.
It measured the impact of average paid-load time a user experienced to their likelihood to convert on the site and found a significant correlation. The conversion rate peaked at about two seconds, dropping by 6.7% for each additional second.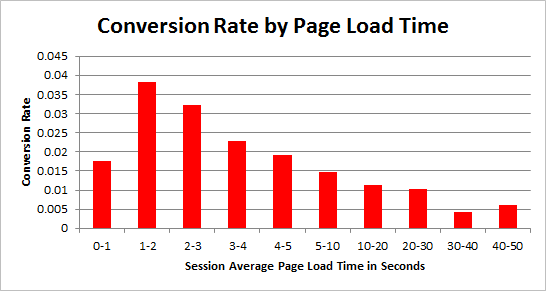 Furthermore, page-load time for non-converters, users who abandoned the page without converting, was three-to-four times higher than for converters.
This indicates that visitors who aren't taking any actions on a site may have abandoned because of the page delays.
Tagman also has a conversion loss calculator so you can work out how much revenue you could gain by speeding up your site.
Site speed for SEO
Not only does slow site speed negatively impact the user experience, but it will also cause your site to be penalised by Google in search results.
For the past two years Google has incorporated site speed as a ranking factor, however it has said that it would impact fewer than 1% of queries and that website owners should still be more concerned with the quality of their sites.
Google's focus on site speed came after it ran its own usability tests back in 2009.
It found that slowing down the results search page by 100 to 400 miliseconds has a measurable impact on the number of searches per user of -0.2% to -0.6% (averaged over four or six weeks depending on the experiment).
Furthermore, the data showed that users did fewer and fewer searches the longer they were exposed to the experiment.
Users exposed to a 200ms delay since the beginning of the experiment did 0.22% fewer searches during the first three weeks, but 0.36% fewer searches during the second three weeks.
Similarly, users exposed to a 400ms delay since the beginning of the experiment did 0.44% fewer searches during the first three weeks, but 0.76% fewer searches during the second three weeks.
Even when the page speed returned back to normal it took a long time for people to return to their previous usage level.
What's slowing your site down?
We've previously blogged about 20 things that could be slowing your site down. Here are a few of the worst offenders:
Ad network code. Ad revenue may be a boon for your bottom line, but ad network code, most of which is JavaScript-based, can make your pages slower;
Analytics tags. Analytics is immensely valuable but JavaScript-based analytics tags can be a detriment to page load times. The good news is that many analytics providers offer asynchronous delivery, but many publishers increase inefficiency by using multiple analytics providers unnecessarily;
Bloated HTML. Bloated HTML not only increases the amount of data that must be transferred to your users, it can have a significant impact on JavaScript performance when you're manipulating the DOM;
Forgetting to Gzip it up. If your server isn't configured to apply Gzip compression to HTML, CSS and JavaScript, you're probably transferring a meaningfully larger amount of data than you have to;
Public networks for private data transfer. One of the first things many publishers do when they need to start to scale is to split their web and database servers. But many don't connect the two using a private network, creating a huge bottleneck and point of failure that can easily impact website performance;
Unoptimized images. On an image-heavy page, a modest 5-10% reduction in file size per image can have a noticeable impact.
The importance of speed for m-commerce
Data included in our Mobile Websites and Apps Optimisation Best Practice Guide reveals just how impatient people are when browsing the mobile web.
Almost three-quarters of respondents (74%) will abandon after waiting five seconds for a mobile site to load, 57% have experienced problems when accessing a mobile site and 46% would not return to a poor performing site.
According to more stats from Gomez, on November 15 last year the average response time for 14 industry-leading mobile retail sites was 4.73 seconds. Amazon led with a response time of 2.85 seconds.
This is a huge issue, as conversion rate increases 74% when page load time improves from eight to two seconds.
Further stats from the Aberdeen Group show that a one second delay in page load time equals 11% fewer page views, a 16% decrease in customer satisfaction, and 7% loss in conversions.
In real terms, this means that if your site typically earns £10,000 a day, this year you could lose £250,000 in sales.
Tools for testing your site speed
There are a number of different tools you can use to test your site speed, including one from Google.
Here are eight useful examples, courtesy of smashing apps:
Americans are hooked on speed
Data included in an infographic from the Online Graduate Programs shows how important website speed is in the US, with around 25% of people saying they would abandon a webpage that takes more than four seconds to load.
The situation is even more drastic on mobile – 50% of mobile users will abandon a page if it doesn't load in 10 seconds, and three in five won't return to that site.
Top 2,000 sites
According to an analysis of the top 2,000 retailers' websites, the average site now takes 7.12 seconds to load using Internet Explorer 9. In comparison, the average for Chrome is 7.5 seconds and Firefox 7 takes 7.15 seconds.
The strangeloop survey, which is included in this infographic post, found that the top 100 sites tend to be slower than the rest of the top 2,000 and have on average 21 more resource requests.