From security concerns to annoyances around hidden charges or high delivery costs, there are a number of possible reasons why not make a purchase from an online retailer.
An Econsultancy survey of 2,000 UK consumers, conducted using the TolunaQuick tool, looks at the reasons why customers choose to abandon online purchases.
Of the 2,000 respondents, just 12.8% don't shop online, the other 87.2% shop at least several times per year.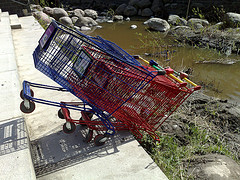 Some highlights from the survey after the jump…
Deciding whether to shop on an e-commerce site
An e-commerce site needs to convey trustworthiness to potential customers. If you are Amazon or John Lewis, then you already have a brand that conveys this, but in the case of less well-known brands, what signs are customers looking for?
48% of respondents said trustmarks would help them to decide to shop at a particular site. I have argued in the past that good design is more important, but trustmarks can be effective for smaller retailers.
Clear contact details was cited by 46% of respondents, while 41% would use a site if recommended by friends or colleagues.
Design factors, such as a professional look to the site and good performance and load times also help to engender trust.
If you are shopping from a retailer you don't know well, how would you decide whether to trust the website?

Reasons for abandoning sites soon after arriving
We also asked customers why they would quickly abandon a site, the main reasons being slow loading pages, poor design, expensive prices, and concerns about security.
Product page essentials
Ideally, product pages should convey all of the information that customers need to see before they can decide whether or not to make a purchase.
The best product pages need the five things in the chart below, while the experience can also be enhanced with use of video, 360 product views, effective cross-selling, and so on.
Among the 'other' responses given were alternative payment methods, details on size and measurements, and reassurances about security.
What information do you need to see on product pages to help you decide whether to make a purchase?

The survey also highlights the importance of information on returns polices. 46% said they always check returns policies before making a purchase online, 43% sometimes check this, while just 11% never bother.
Basket abandonment
I separated basket from checkout abandonment in this survey, because I think that, though there are common issues, people abandon baskets for different reasons than the payment process.
Some of the reasons given here, such as high delivery charges (74%) and high prices (49%) are nothing to do with good basket design, and this is information that should be conveyed on product pages so customer do not have to use the shopping basket to find out.
Another key barrier to purchase is compulsory registration, something which would make 26% of respondents abandon the shopping basket.
Many retailers are now providing a guest checkout option, or optional registration once a payment has been made, but there are still a few that insist on it, including many mobile commerce sites.
After adding items to your basket, what would make you abandon your purchase?

Checkout abandonment
There is plenty that retailers can do to optimise the checkout process, including enclosing the process to concentrate the customer's mind, and handling checkout errors effectively.
The main issue cited by respondents was hidden charges, for which there is really no excuse. Retailers need to be upfront about total prices and delivery costs well before the checkout.
Customers aren't going to continue with the purchase just because this information is revealed late in the process. In fact, it's likely to make them more annoyed.
Once you are in the checkout process, what would deter you from completing the purchase?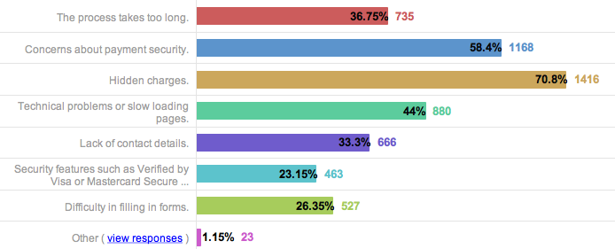 Security concerns (58%) and technical problems (44%) also cause customers to abandon the checkout, followed by a long process (37%) and lack of contact details (33%).
23% cite security measures such as Verified by Visa. It is now widespread on e-commerce sites, and retailers do seem to implementing it more effectively than before – embedding it into branded pages, advising customers etc, but this process itself still presents a major barrier for some.
Remembering one more password can be an issue (it certainly is for me) which means that customers have to go to the trouble of resetting the password. A quick search on Twitter shows that many online shoppers are still frustrated with this.
Image credit: wstryder via Flickr