LinkedIn, as I'm sure you're aware, is one of the largest social media platforms in the world. It's unique in many ways but one of the most important is the fact that it's a professional platform.
People from all over the world create a type of digital resume with their work experience, contacts, and their current positions. For a salesperson or a marketer, it's a goldmine that doesn't run dry.
It can be used to develop a steady stream of quality leads to grow a brand much faster. The challenge is the amount of manual work required to use LinkedIn properly.
That's where LinkedIn bots and automation tools come into play. They can help you cut down a lot of the grunt work and get results in a fraction of the time.
In this guide, you'll learn about some of the best LinkedIn automation tools to generate and nurture quality leads on LinkedIn.
Best LinkedIn Automation Bots
1. Hexospark

Gathering contact data of your potential leads from LinkedIn can be a tedious task as you have to copy and paste the details of each profile page, including the name, phone number, email, qualifications, etc. But you no longer have to worry about wasting your time on this kind of task with Hexospark!
Hexospark is an all-in-one email outreach and CRM platform making it easy to find leads on LinkedIn, send, create perfect email lists, send hyper-personalized email campaigns, and more.
With the help of the Hexospark extension, you can capture detailed information from LinkedIn. All you have to do is visit the LinkedIn profile you want to scrape and click on the extension. Hexospark will gather all the data from that profile in seconds and save it in its contact list.
You can later create email campaigns without having to leave Hexospark as all the information will be saved in the Hexospark CRM.
Key features
LinkedIn contacts scraping
LinkedIn prospecting
All-in-one email automation
Lead management
Built-in CRM system
Unified inbox
Email scheduling option
Personalized LinkedIn icebreakers
Unlimited emails and follow-ups
Cons
It can't extract contact details that aren't publicly available.
Pricing
Hexospark has a free trial available. Paid plans start from $24 per month for a monthly subscription plan. You can also get a plan tailored to your unique business needs.
2. Dux-Soup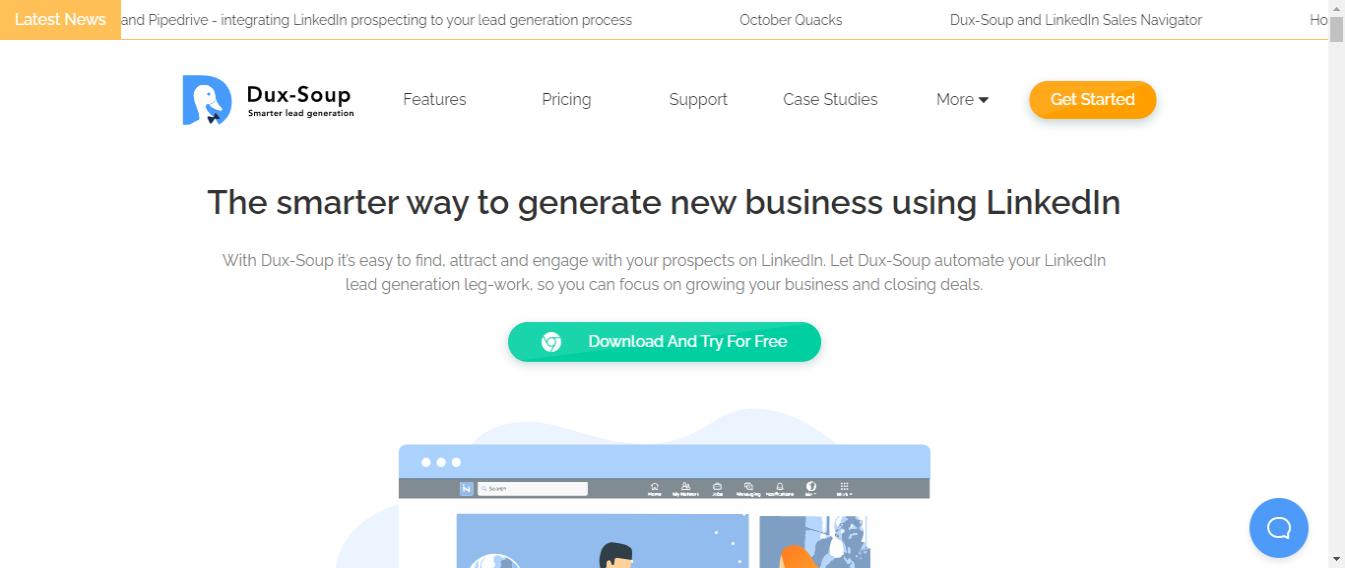 Don't let the strange name fool you, Dux-Soup brings many important tools to the LinkedIn automation game. It automates more than just finding prospects and sending a friend request. It actively engages with prospects on the platform by endorsing skills, interacting with LinkedIn posts, and more.
Once you've connected with a prospect, you're able to send automated follow-up sequences of varying lengths. You can even go as far as filtering based on how active the people you reach out to and save yourself time by ignoring those who don't engage with your messages.
Dux-Soup also has a simple CRM that allows you to keep track of people you've interacted with and you can even apply tags. Conversely, you can upload a list to the platform and reach out to people that way.
Key features
Automate emails and LinkedIn messaging
Basic CRM to keep track of the people who you've interacted with
Tag prospects to follow up with later
Ability to upload your own list of prospects
Interact with prospects with the LinkedIn bot by liking posts and endorsing skills
Download contact information right from the platform
Make notes against profiles
Cons
It's a desktop application so it's tied to CPU usage
Pricing
It has a free plan and paid plans start at $14.99/m.
3. Salesloop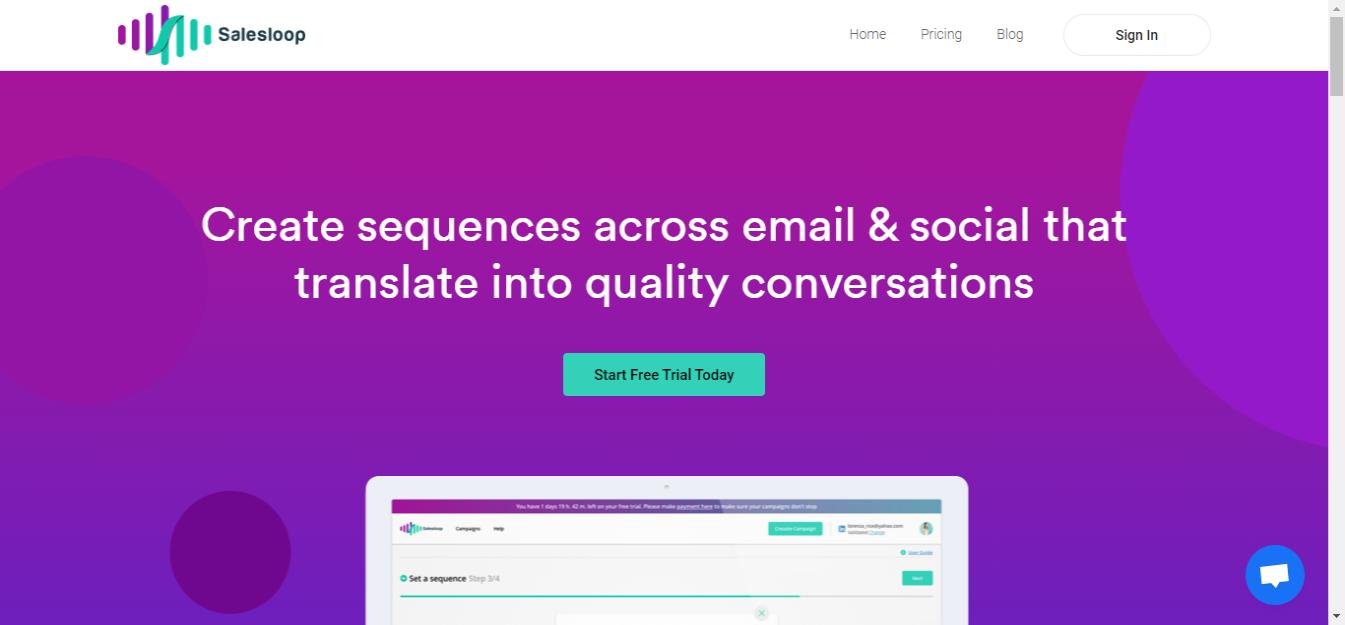 Salesloop is a solid LinkedIn automation tool that's designed for one-man squads all the way up to medium enterprises. One of its strong suits is the ability to launch multi-channel campaigns using email and LinkedIn together.
The targeting options let you find the perfect match prospects for your needs. For example, you can filter by geography, industry, and even job title. Once you find matches, you'll be able to automatically connect and start sending personalized messages to turn them into leads and take the next step in your funnel.
One of the major problems of the first generation LinkedIn tools was the fact that they were designed as desktop applications. If you disconnect from the internet, the campaigns you've set up will stop running. Salesloop doesn't suffer from the same limitation.
Key features
Geographic, industry, job title, etc. targeting
Simple personalization tools
Sync across email and LinkedIn for consistent messaging
Automatically remove people from automations after the first reply
Doesn't require you to leave your computer on to run
Campaign reporting
Basic CRM
Cons
Still a young tool that needs further development
Doesn't help you determine usage safety limits
Pricing
Pricing starts at $39/m for a single user and can go as high as $799/m for the managed service.
4. LeadConnect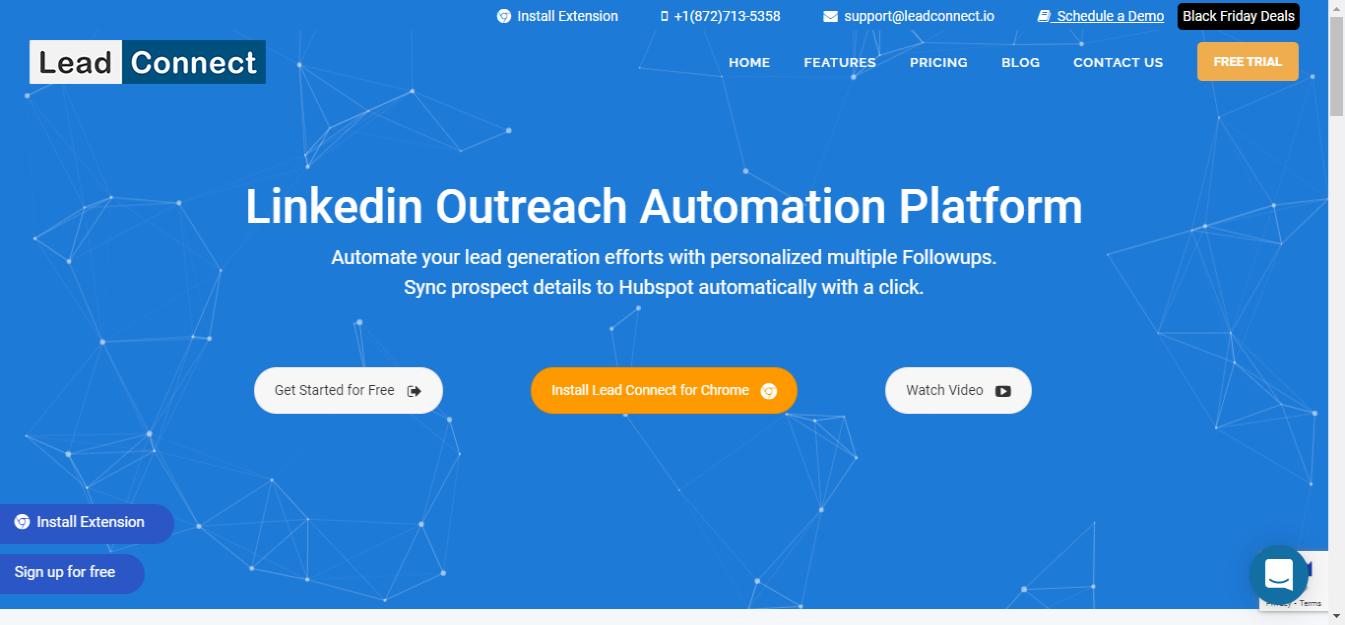 LeadConnect is a well-rounded LinkedIn bot that brings many useful features to the table. You're able to use either the basic LinkedIn search or Sales Navigator to help the tool define your target audience. Afterward, you can send connection requests with personalized messages and follow-up with them after they've accepted your requests.
It also has integration with other email lookup tools so you're able to get their contact information and continue the conversation off the platform. With the Hubspot integration, you can send all their data – including the conversation – to your CRM and follow-up accordingly.
Key features
Chrome extension
Sync contacts to your Hubspot account
Set targeting options
Integrate with email lookup tools
Multiple follow-up messages on LinkedIn
Reply opt-out so you're not sending follow-up messages to people who've already replied
Simple team management
Message personalization
Simple analytics
Cons
Interface can be confusing at times and require extra steps
Support is often subpar when you run into an issue
Pricing
It has a free plan then pricing starts at $25.95/m.
5. Wiza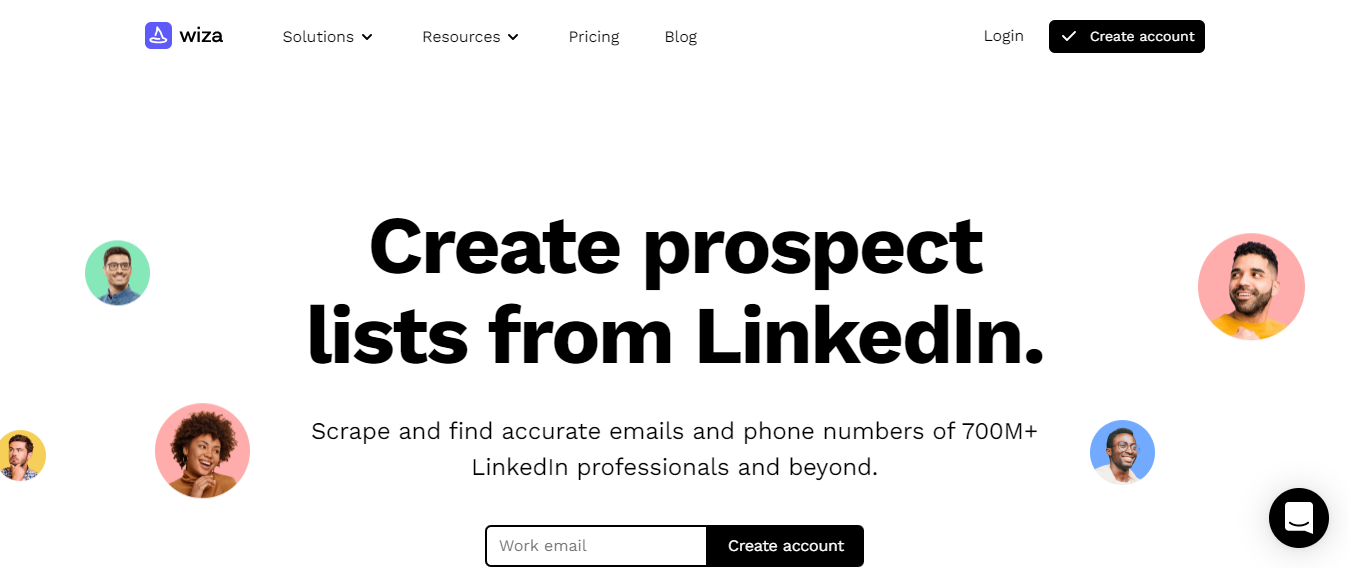 Prospecting on LinkedIn can be extremely tedious. Just imagine yourself manually going through thousands of profiles, trying to find those at least remotely relevant to your target customer description. But if you choose to do prospecting with Wiza, you won't have to break a sweat.
Wiza is a real-time prospecting tool created specifically for LinkedIn Sales and Outreach, that supplies you with the most up-to-date information about potential contacts. All you need to do is apply relevant filters in your LinkedIn Sales Navigator searches and export the results using the Wiza extension. You could export the prospects list to a CRM or a CSV file, each prospect will have their own profile with valid emails, phone numbers, and other contact information. 
Key features:
LinkedIn prospecting

LinkedIn scraping

Email finder and verification

Export verified email lists from LinkedIn Sales Navigator to CRM or a CSV file.

Flexible payment options
Cons
It can take a while to export data, which is understandable if you're working on creating large lists of prospects.
Pricing
You can use Wiza for free, but you'll still have to pay $0.15 for each credit (1 credit=1 email). Subscriptions start at $50 a month
6. Expandi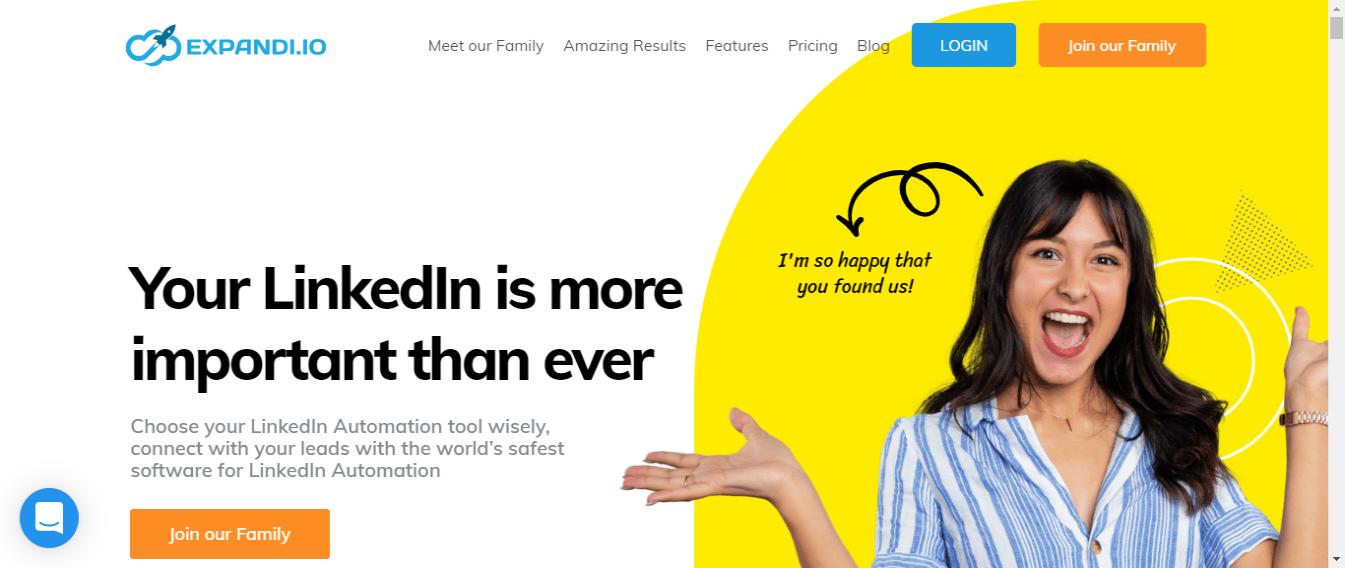 Expandi is a newer LinkedIn bot and claims it's the safest on the market. With the permanent restrictions that LinkedIn has started handing out, this may be an important distinction. In line with that assertion, there are a number of features put in place to make it a reality like dedicated country-based IP, delays between actions, a warm-up feature, and limits in line with LinkedIn usage guides.
In addition to the safety features, it has the tools you'd expect from a LinkedIn bot. This includes connections to your CRM, follow up messages, personalization, etc.
Key features
Connect to popular CRMs
Strong targeting features
Emphasis on the safety of your account
Multiple playbooks to follow and get better results
Manage multiple accounts
Inbox to manage your chats from LinkedIn
Simple analytics to gauge performance
Targeting options to make the most of your efforts
Develop follow-up sequences
Personalize all your messages
Reply detection
Cons
It's a bit more expensive than other tools
Pricing
Expandi has a single pricing plan of $99/m per account.
7. Zopto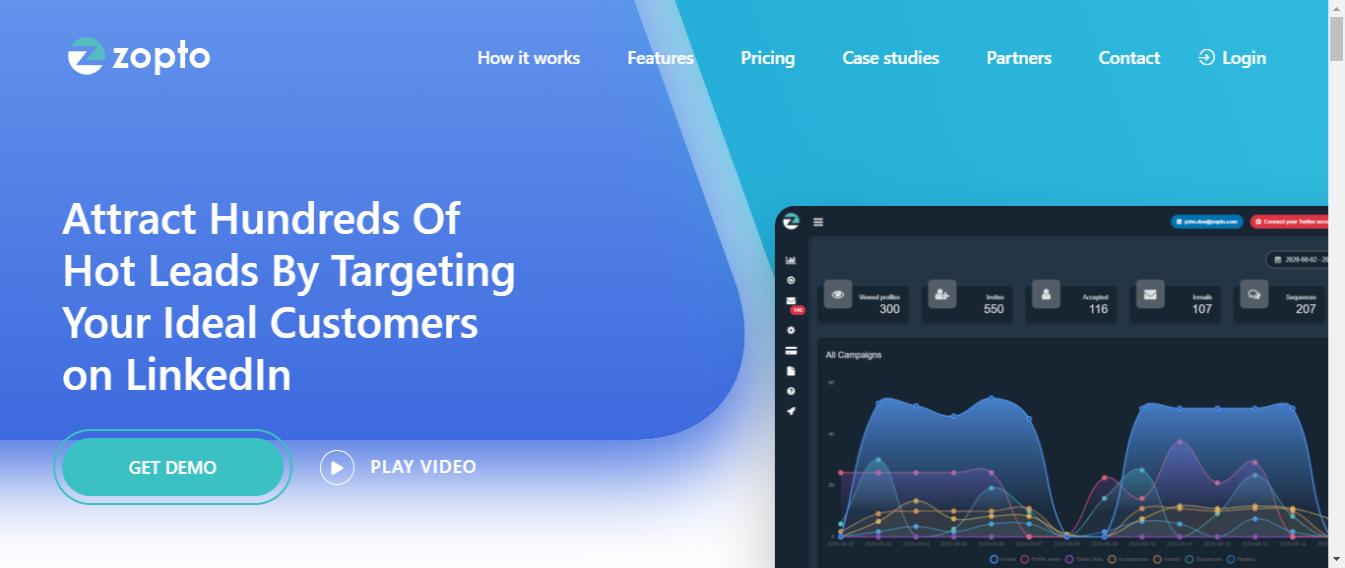 Zopto calls itself the #1 LinkedIn automation tool. While the title is debatable, it does have a solid feature set that attempts to back up the assertion. It has a responsive support team, is cloud-based so you don't have to worry about downloading anything, and uses an algorithm that mimics human behavior to keep your account safe.
Key features
Large number of criteria available for targeting
Lists are cleaned automatically using it AI
Identifies and removes emojis when personalizing outreach
Multiple account management
Built-in LinkedIn safety features
Access proven templates
Create as many campaigns as you need
Support for campaign scheduling
Detects replies and stops automated follow-ups
Integrates with hundreds of tools through Zapier
Cons
Much pricier than other tools
All incoming leads are in the same inbox so if you're running multiple campaigns it can be difficult to manage
Pricing
Zopto starts at $215/m for a single account and goes as high as $895/m.
8. Alfred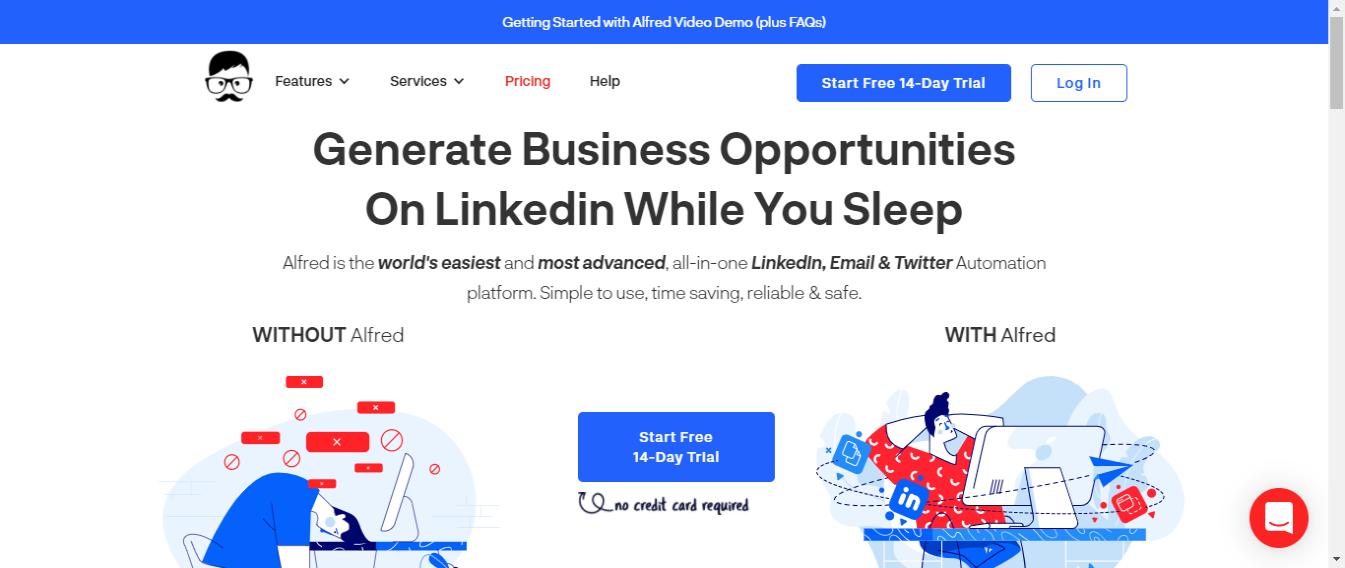 Alfred is another solid LinkedIn bot that multiples your results without requiring more effort on your part. In addition, it helps you automate your email and even Twitter interaction for true multi-channel campaigns.
It goes beyond just sending requests and follow-up messages (though it does that too) by allowing you to engage with user's posts and view their profiles. Safety is also taken care of with Alfred due to the usage limits automatically imposed
Key features
Run multichannel campaigns through LinkedIn, Twitter, and email
CRM that provides detailed information about new contacts
Reporting features to understand your performance over time
Team management
Post scheduling
Safety limits that protect your accounts at all times
Additional services to optimize your LinkedIn presence and performance
Cons
No refunds under any circumstances
The interface can take some getting used to as a novice
Pricing
Prices start at $49/m and goes up to a few hundred dollars a month
9. Phantom Buster
Phantom Buster isn't just a LinkedIn tool – it also works with Twitter, Facebook, multiple Google services, etc. It's designed to automate certain tasks on specific platforms and scrape data for you.
Each use case is part of a specific module that you can mix and match as you see fit. Each action takes up a slot so if you use all the LinkedIn tools, it'll require 8 slots. In addition to the slots that'll be used, you're limited by the duration of the action.
Key features
Send LinkedIn connection requests automatically
Scrape content information from LinkedIn profiles
Send personalized messages
Export LinkedIn search results
Find information of companies on LinkedIn
Cons
The pricing is a bit convoluted
There are no safety precautions to protect your account
Pricing
It has a free plan then the paid plans start at $30/m for 1 hour of work and 5 slots.
10. We-Connect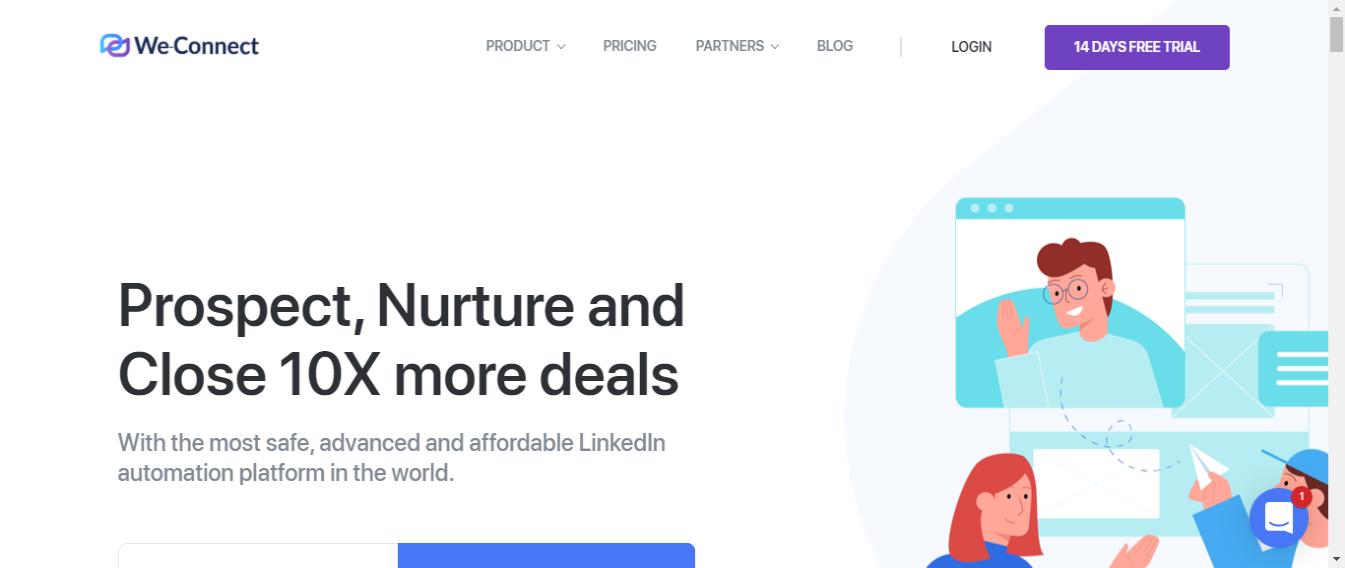 We-Connect is also fighting for the title of the safest LinkedIn bot in the world. To that end, it provides a unique IP, usage limits, and randomized actions. Beyond that, it has a number of useful features such as an API, Zapier integration, duplicate message prevention, and more. It's a solid tool that'll get the job done.
Key features
Bulk contact requests
Send messages and follow-up sequences (up to 10 messages)
Visit profiles on LinkedIn
Export data from the tool
Campaign reporting
Inbox management tools
Detects replies and stops sending follow-ups
Message personalization
Contact tagging and adding notes
Cons
The interface may be confusing for many users
Can only run one campaign at a time
Pricing
Pricing starts at $49/m per user
11. LinkedIn Helper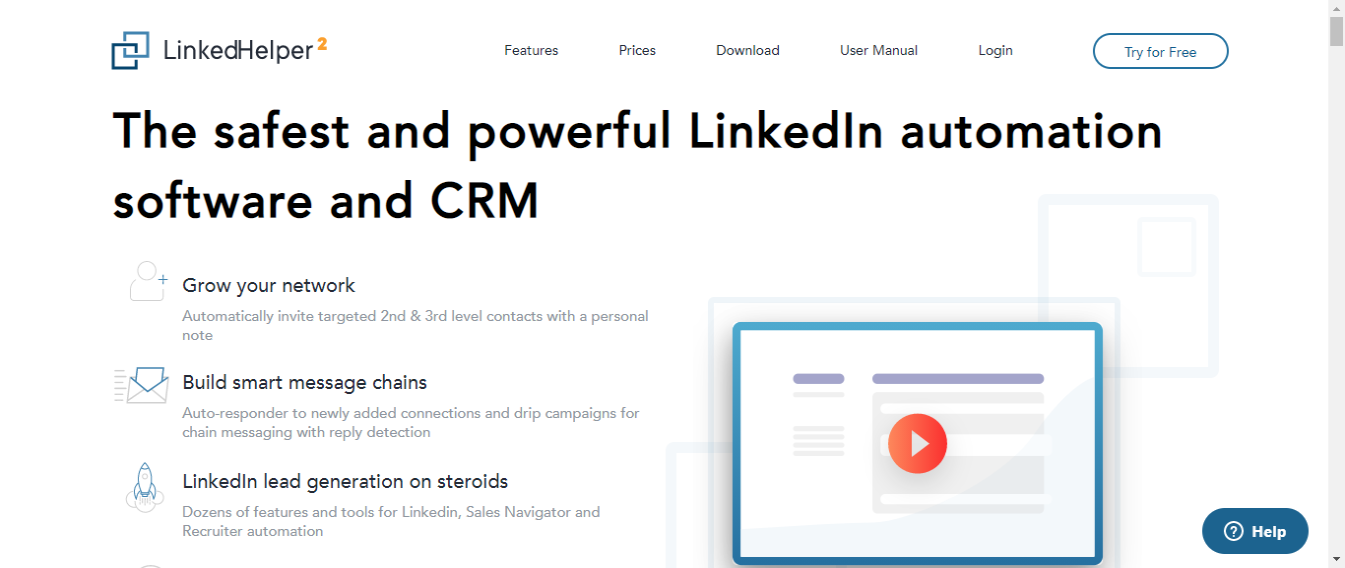 LinkedIn Helper combines LinkedIn automation with a solid CRM to help you get better results from your outreach. It boasts 90,000 happy users and has the features to back it up. Like many other tools on this list, it has a strong emphasis on safely automate your LinkedIn activities.
Key features
Built-in CRM
Integrations with 3rd party CRMs
Invite connections to LinkedIn groups
Autoresponders for new contacts
Follow-up sequences
Message personalization
Tag contacts
Send InMail to 2nd & 3rd-degree contacts
Integrates with email lookup tools like Snov and Hunter
Remove connections from LinkedIn
Cons
It's an app that needs to be downloaded
Pricing
Pricing starts at $15/m/account and reduces the more months you subscribe for.
12. LinkedIn Sales Navigator
LinkedIn Sales Navigator is one of the safest tools for LinkedIn automation because it's created by the company itself. It gives you full access to LinkedIn where you can prospect, send InMail, create and save lead lists, video training, and so much more.
It doesn't let you automate the process in the same way third-party tools do but it'll give you many insights they can't. For the best results, use one of the other tools on this list with LinkedIn sales navigator. To learn more about how much this powerful tool costs, you can check out this detailed guide on sales navigator plans.
12. SocialBee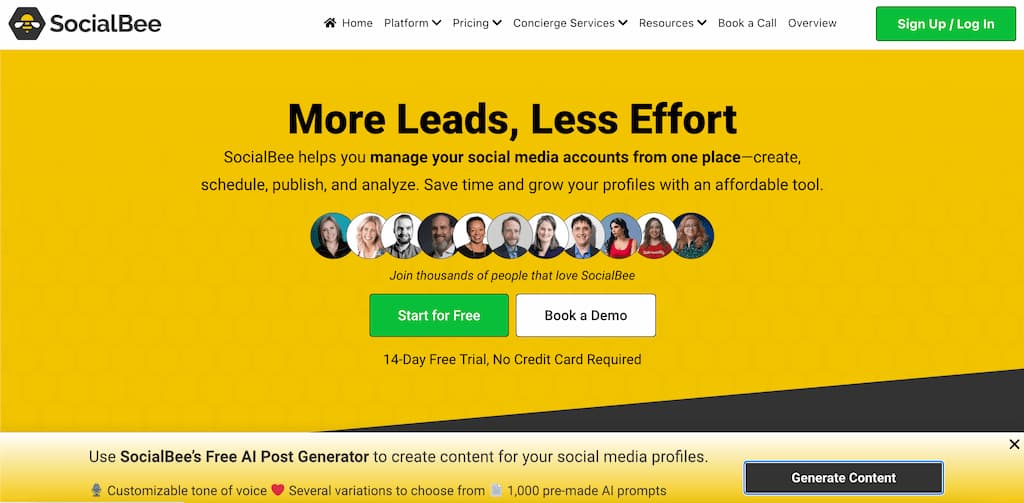 SocialBee is a robust social media automation tool that empowers users to efficiently manage their presence on LinkedIn. You can create engaging content, schedule LinkedIn posts in advance, and publish directly from SocialBee, eliminating the need for manual posting. However, its capabilities extend far beyond LinkedIn, encompassing all major social platforms.
Key Features
Generate images and captions with AI
Design posts with Canva, Unsplash, and Giphy
Import and edit content in bulk
Connect RSS feeds to import content
Create a posting schedule
Manage your social inbox
View your upcoming posts
Analyze the performance of your posts and accounts
Supported platforms: Facebook, Twitter, LinkedIn, Instagram, Pinterest, Google Business Profile, TikTok, and YouTube
Cons
SocialBee's mobile app doesn't allow users to create and schedule content.
Pricing
SocialBee plans start at $29 per month after a 14-day free trial.
What to look for in LinkedIn automation tools
Not all LinkedIn automation tools are created equally. Some do the basics but you run the risk of getting your account banned or permanently restricted. Some do the basics and also add advanced features to help you along.
The following areas are must-haves for any LinkedIn bot you choose to work with.
Targeting
One of the most important aspects of a LinkedIn automation tool is strong targeting features. There are millions of people from all industries. Targeting based on location or general industry often isn't enough.
The best LinkedIn tools allow you to get granular with your targeting. The prospects that enter your pipeline are more likely to turn into customers and clients down the line. When targeting is off, you have a lot of wasted effort.
Contact management
Another important aspect of LinkedIn marketing is being able to handle the new contacts you acquire. Many people will be replying to your connection requests and messages. How do you keep up with it all?
Contact management and an inbox are nonnegotiable. They'll keep you organized and ensure no lead slips through the cracks.
Personalization
LinkedIn power users are getting used to being pitched with poorly designed automation campaigns. Someone will send them a sequence that they've sent to 500 other people and the power user will be able to identify it from a mile away.
A new trick some linked users have taken advantage of is putting an emoji in front of their name. The automation tool will pick this up and mistake it for their first name. Instead of hey *John* it becomes hey *emoji* which is a dead giveaway for automation.
Avoid this by choosing a tool that allows you to use personalization based on many factors like job title, company, area, etc. (and can parse out emojis).
No matter the tool you choose, it's important to stay within the usage limits as stipulated by LinkedIn. The platform is starting to tighten (or rather, enforce) policies related to how you can use third-party tools.
One of the ways they enforce this is through the permanently restricted account. You basically lose access to the useful features on LinkedIn. While it's possible to lift a ban on a restricted account, it's difficult and time-consuming so just follow the rules.