The digital product industry is currently estimated at around $336.14 billion – a figure that is expected to exceed $400 billion by the end of 2021.
These statistics aren't surprising when you consider just how many benefits come with selling digital products.  
For instance, you never have to worry about logistics, managing inventory, shipping, product packaging, etc. There are no upfront costs, and digital products are infinitely scalable.
Whether you want to undergo this lucrative venture full-time or as a way to provide supplementary income, there's no better time than now to get started.
But, just because you've created an awesome digital product doesn't mean that people will be rushing to buy it. You still need to find ways to get people interested in it, make it convenient, safe to use, and ensure users' data safety at the same time.  
And despite what some people believe, generating demand isn't simply about releasing your product into the market. It requires much more than that, including conducting research, determining consumer needs, establishing yourself as an authority in your industry, and repeatedly proving the value of your product. 
This article dives deeper into the different tips and marketing strategies you can use to help you pique consumers' curiosity and spur demand for your digital products so you can boost your profits.
1. Pay Attention to Market Research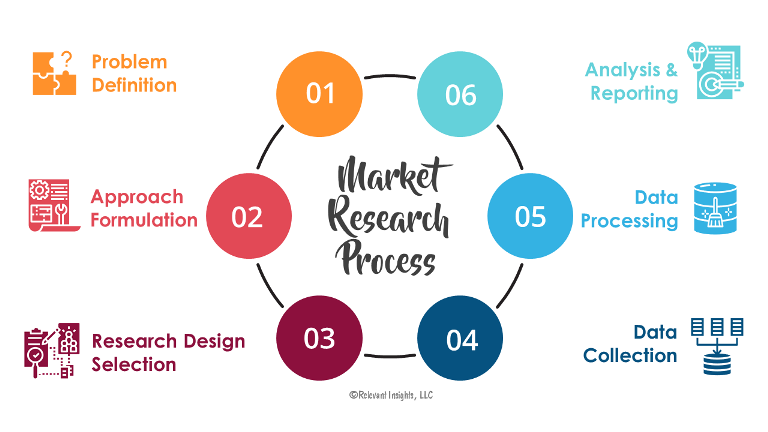 (Source)
Before you can implement any creative approaches for generating demand for your product, you must first understand exactly who you'll be marketing that product to. 
You can figure out the type of customers you want in a variety of ways, including:
Test groups

Reviews on your website

Presentation of your product

Feedback on social media (NOT from family and friends)

Relevant online forums and social media groups 

Google Trends/Keyword Planner search
… and so on.
Focus on unbiased opinions from any method you can find. Unless you have validated your digital product idea, and you're sure that it's geared toward solving specific problems for your target audience, all the energy and work you put into increasing demand for your product will be wasted because you'll likely be pushing a product that no one actually wants. 
There are already millions of digital products out there that have only sold a few copies (usually to the creator's friends and family) because there is no sizable audience interested in them. 
That's why it's crucial to take the time to do your market research before you create and launch your new product to give yourself a firm foundation of success.
Neal Taparia, who runs the brain training site Solitaire Brain, suggests going a step further and using prototypes in your market research. "Build a prototype or wireframes and understand how your target audience engages with it. If they indicate they can't wait for your product to be ready, you're clearly on to something. We showed some brain training exercises built around solitaire games, and the response we got gave us conviction in our business." 
2. Focus on Search Engine Optimization (SEO)
Search engine optimization is another way to help you increase awareness and interest in your digital products. When done right, this channel can provide you with a very low-cost means of generating new customers. 
All you have to do is create high-quality content that is SEO-optimized so you can rank high in the organic search results of Google and other search engines. 
Over time, this will bring you a growing number of visitors to your product page where you can then convert into customers. Also, this type of traffic from search engines is targeted, which is particularly great for boosting conversions and sales.
You can leverage your SEO in the following ways:
Conduct Effective Keyword Research:

Create high-quality content, such as product reviews, infographics, how-to guides, etc., and infuse it with important keywords and phrases associated with your product, business, industry, etc.
Update Your Blog Regularly:

Your brand's blog is one of the most powerful ways to generate more demand for your product. Make sure to post regularly in order to increase the volume of traffic you get from search engines.
Share Guest Posts:

Look for guest blogging opportunities in your niche, but instead of making it focused on selling your product, use the post as a way to provide value and position yourself as a credible authority in your industry. 
3. Boost Brand Transparency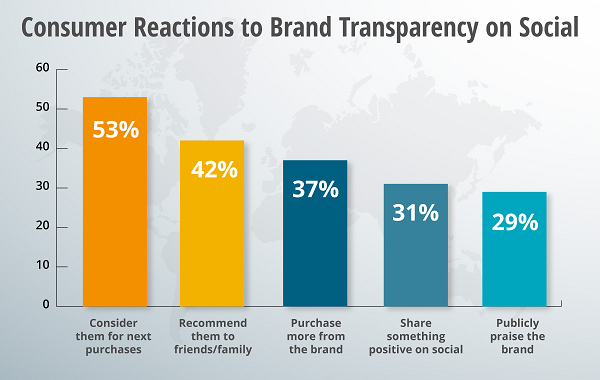 (Source)
These days, consumers demand (pun intended) transparency and accountability from brands. If you want to get more people interested in your new digital products, it's important to be transparent about your brand's values, processes, goals, products, etc.
The good news is, leading with transparency in your business not only helps you increase demand for your digital products, but it also comes with a ton of other benefits, including:
An increase in loyalty

Higher sales

Improved employee morale 

Increased customer satisfaction

A boost in

customer retention
… and much more.
But how can you be more transparent in your business?
Be Close to Your Audience:

Keep a close relationship with your customers and prospects and maintain interaction at every step of the customer journey.

Respond to Customers:

Offer rapid responses when customers reach out to your brand with comments, feedback, or inquiries about your products or services.

Create a Culture of Honesty:

Gain your customers' confidence by making sure your company is honest with customers about product prices, policy changes, shipping issues, etc.

Make Information Easily Accessible:

No matter what information your customers want to find about your product or business, they should be able to easily find it on your company website, social media channels, etc.

Offer a Money-Back Guarantee:

Most people are hesitant about offering guarantees on their digital products, but this takes the risk from potential customers resulting in higher conversion rates.

Deliver Big on Promise:

As long as you offer a unique product capable of delivering on a big promise, centering your marketing efforts around this claim will help you significantly boost demand for your product.
4. Set Up a Waiting List
Customers love anticipation. Setting up a waiting list or collecting pre-orders will help you leverage this powerful emotion. It will also serve as yet another way to validate your product idea.
If people are interested enough in your digital product concept to share their email address with you, then you know that there's also a chance they will be interested in buying your learning resources, online course, PLR course, ebook, software, or other downloadable goods once they're live. 
To get more people to sign up for your product, you might consider offering discounted "early bird" pricing. For instance, you might offer 50% off for the first 100 customers, or something like that. 
If you have existing customers, you might launch the discount exclusively to them as a way to reward them for their loyalty and get valuable feedback on your product.
Once you have the email address, you can use an email marketing service to follow up with them automatically to not only build anticipation about your product/service, but get more insights about your customers as well.
5. Leverage Social Media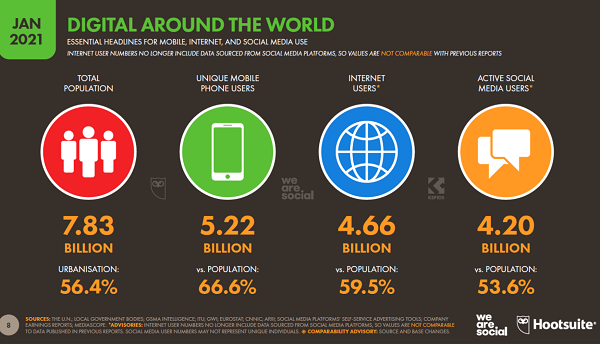 (Source) 
As a marketer, you already know the importance of social media for boosting awareness and increasing demand for any type of product. Today, people all over the world spend over 145 minutes per day on social media, that's why it's one of the effective ways to reach your audience. 
Here's how focusing on social media can help you:
Build a Large Following:

With the right social media strategy, you'll be able to amass a huge following on various social networks.

Boost Brand Awareness:

An increase in awareness of your brand translates to an increase in demand for your new digital product. 

Quickly Discover User Concerns:

You can use social listening tools to monitor the conversation that's taking place around your product. 
This will allow you to quickly address user concerns around your offer. You'll also be able to guide the narrative to showcase your goods in the best possible light which ultimately helps to drum up even more demand.
Social media also lets you partner with influencers and build stronger relationships with your customers by allowing you to converse with them on a more personal level.
As long as you produce and share relevant, high-quality content with your audience, you will be able to maximize this opportunity offered by social media to spur the audience's interest in your product.
6. Feature Customers' Reviews
Positive testimonials reassure your visitors and provide them with social proof that helps to boost your conversions.
People trust testimonials from other shoppers, and according to a recent survey, almost 70% of American customers who shop online state that they typically consult reviews before making a purchase. 
Furthermore, those people won't hesitate to buy from the company's competitors if they see a lot of bad reviews about the product. 
This is why it's crucial to act in a timely and professional way when dealing with customers who've had a bad experience with your business or product. 
Always respond quickly to any feedback you get and make sure you analyze all your reviews on different platforms (social media, blog comments, forums, third-party review sites, etc.)
Once you've drawn any meaningful insights from the customers' feedback, take the necessary steps to improve your products/marketing strategy. 
Here are a few tips to help you generate positive customer reviews and testimonials:
Ask permission to share

any

positive messages or comments from customers.

Send a follow-up email after a sale to ask for an honest review.

Offer discounts on future purchases to incentivize more people to leave reviews. 

Show customers that you listen to their feedback by responding to every review.  

Set up a system and use automation tools to help you collect reviews automatically. 
7. Product Scarcity
(Source)
Using scarcity marketing tactics will help you tip the scales of supply and demand in your favor by creating a sense of urgency in your customers' minds. 
You can use scarcity as a powerful strategy to nudge prospective customers down the funnel and encourage more sales. This strategy often works better with physical products, but you can also make use of it when promoting your digital product. 
For instance, if you are selling an online course, you might limit the number of students who can sign up, or offer the course for a limited time period as a way to instill a sense of urgency in your customers' minds
Marie Forleo, a well-known digital entrepreneur, does this with her B-School course where she only takes in a certain number of students a few times a year. 
This not only helps her bolster sales, but it also creates a massive brand lift by playing on the customers' FOMO (fear of missing out).
8. Embrace Video Marketing
Video marketing is on the rise. It's a great way to increase your organic traffic and it will also boost the demand for your digital products, making it easier to make sales. 
To leverage this powerful marketing strategy, simply create informative videos on your YouTube channel that showcase the uniqueness of your product as well as its value and benefit to your customers. 
These types of videos will also help you reduce the time you have to spend educating your audience about your new digital product, thereby freeing you up to focus on other important things, such as sales and customer service.
To enhance the quality of your content, it is imperative to utilize sophisticated production and editing software. Seek out a comprehensive tool equipped with cutting-edge capabilities, such as an AI image generator, video downloader, and eye contact correction. Employing such advanced features will undoubtedly elevate the overall appeal and engagement of your video clips.
You can use video marketing combined with different aspects from other strategies to create more demand for your product. 
For instance:
You might create video content in conjunction with

YouTube influencer marketing

to reach a broader audience. 
You can also do

YouTube channel interviews

as a way to get more attention to your digital products from diverse viewing audiences.
In addition to posting your videos on YouTube and other video-sharing sites, you can also include them on your website or embed them in your blog posts. These will help prospective and existing customers learn more about your brand and products. 
9. Leverage User-Generated Content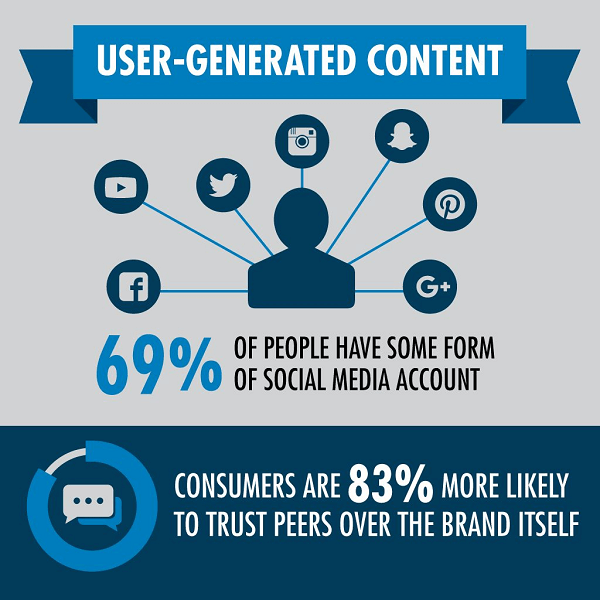 (Source)
Creating more demand for your digital products doesn't always have to be difficult or time-consuming. Sometimes it's as easy as allowing your customers to sell the experience for you. 
This has never been easier than it is in today's age of social media where it doesn't take much for content to generate high levels of interaction and go viral. 
GoPro is an excellent example of a brand that uses user-generated content (UGC) effectively to market its software. 
Customers actively using GoPro products create content and post it online. The company then leverages this content and, instead of relying on costly marketing campaigns, simply lets the experiences of their customers do the talking (and selling) without being salesy. 
You can adopt a similar approach in your own business so you don't have to put in as much effort for marketing your new digital product. Here are a few ways you can go about this:
Create a campaign that encourages and motivates customers to create content around their use of your product.

Run a contest offering prizes to incentivize users to share their experiences.

Promote your best product reviews across your social channels.

Highlight your happiest and most satisfied customers.

Use images and videos of real customers making use of (and enjoying) your products.
10. Offer Exclusivity
Exclusivity is a great tool for generating higher digital product demand. It's yet another tactic that plays on the scarcity mindset and increases your customers' fear of missing out. The only difference is there are lots of products to go around.
This type of scarcity tactic involves qualifying your customers according to specific criteria set by you. As a general rule, people want something more when they cannot have it. As soon as they discover something is out of their reach, they want to know:
Why it's not available to them;

What criteria exclude them; and 

What it would take for them to get access to it. 
Offering exclusivity for digital products comes with the added benefit of reducing or eliminating competition completely. 
In essence, you are making a strong statement that your product is different – and better than the competition. This is a great strategy to use for high-end products where you can take advantage of premium product branding.
11. Promote a Lead Magnet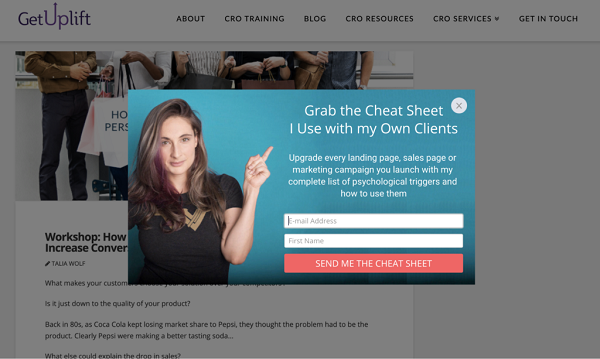 (Source)
Lead generation and demand generation are two different things.  Lead generation is all about acquiring the leads first and then informing your prospect of your product. 
Demand generation is the opposite. It involves informing your prospects about your new product and how it can benefit them by solving the major problem.
Although they're are located at different places in the sales funnel, you can still use the process of generating and nurturing leads as a way to help you increase demand for your product. 
Lead generation typically involves creating a lead magnet which you can then offer as an incentive for them to share their email or other contact details with you. 
Your lead magnet can be anything that your audience finds valuable, such as downloadable content, a free trial of your online course, an ebook, etc. 
By promoting a lead magnet that is relevant to your digital product, you're giving yourself the opportunity to build a list of engaged subscribers who have a higher probability of clicking the "buy" button when you eventually send them an email with an offer.
When you flawlessly integrate chances for guest blogging opportunities into your strategy for generating leads, you have the ability to naturally cultivate leads by providing inclusive content that steers them towards realizing how your product can tackle their difficulties.
By wisely blending guest blogging and lead nurturing, you not only cultivate connections but also establish an educational environment that enhances the need for your groundbreaking digital solution.
This pleasing union of lead nurturing and guest blogging opens doors for genuine interaction, transforming potential customers into fervent supporters who wholeheartedly endorse the exceptional abilities of your product, propelling its triumph onwards.
12. Focus on the Biggest Problem
Selling digital products is undoubtedly one of the most profitable business models available. And, as long as you manage to solve a real problem for your consumers, you'll be one step closer to creating massive demand for your digital goods. 
But, this is where many entrepreneurs stumble. They try to do too many things with their product, solve too many problems, and be everything to everyone. Ultimately, their product becomes ineffective. 
You must avoid this pitfall by focusing only on the main problem being experienced by your target customer. 
Its messaging should make it very clear that you provide an effective outlet to take them away from pain and toward the achievement of their goal. 
This way, you'll know that you have created the best digital product for your business, and by focusing your marketing strategies around that singular solution, you will be able to dramatically increase the demand for your new product.
13. Offer a Free Version of Your Produc
t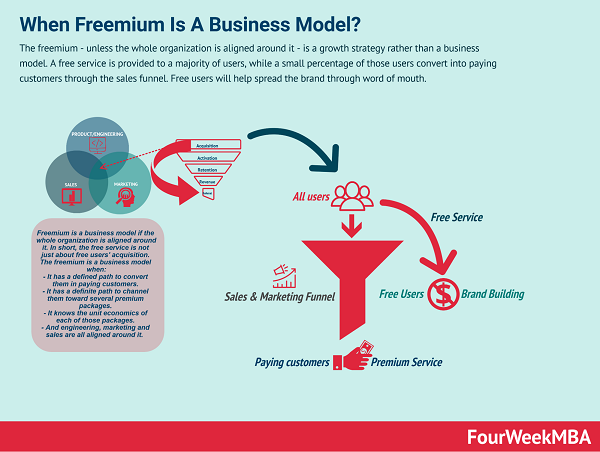 (Source)
Another great way to build up demand is to offer a free version of your digital product. This is an effective strategy to use as long as your product solves a specific problem for your audience. 
Regardless of the price of your product, create a simpler version of it and offer it for free. This will not only help you add more subscribers to your email list, who you can then nurture using the newsletter strategy and sell at a  later stage. But you can also upsell and retarget potential customers with various promotions. 
Offering a lite version of your product for free will also build trust with your customers and lead to more conversions and sales.
Offer Free Content: Another way to boost demand is to offer free, helpful content on your blog, forums, and social media so you can start building your audience and establishing your expertise in your niche, leading to increase product demand.
14. Team up with Strategic Launch Partners
There are a lot of people that you can involve in your product launch to help increase demand. These include influencers, bloggers, brands, and other companies in your space whose products complement yours. 
Influencers have a lot of power over their followers who tend to respect and trust their opinions. Their audiences are more easily persuaded by their content and interactions and you can benefit from this to drum up more interest in your product. 
Involving strategic partners in your launch will also help you get higher conversions. Simply find influencers in your niche that you can incorporate into your marketing strategy as a way to give your new digital product the boost required to get it off the ground. 
Here are a few tips for finding influencers to help you increase demand:
Consider Your Budget:

Depending on your budget, you can target influencers with smaller audiences or you can go for those with millions of followers. Either way, you'll be able to enjoy the many benefits that come with working with these online rockstars – including a boost in demand for your digital product.
Keep It Relevant:

When looking to connect with influencers for promoting your upcoming digital product launch, you must choose those in your industry who are extremely relevant to your own audience.

Don't Discount Micro-Influencers:

When choosing the best influencers to work with, consider micro influences as they typically have niche audiences with higher levels of engagement.
15. Start an Affiliate Program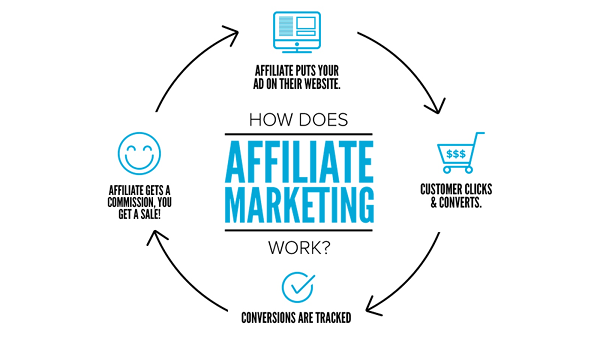 (Source)
Affiliates can be a great source of traffic and sales for digital products creators. There are many marketplaces like Clickbank that you can join and have affiliates start selling your product immediately. 
Alternatively, you can create your own affiliate program where you offer commissions to affiliates willing to promote your digital product. 
Affiliate programs can be extremely effective for creating demand for your new product, particularly during its first days after launch. 
The trick to experiencing phenomenal success with this technique is to find influencers who are already established and trusted within your niche and offer them enticing commissions for every sale they make.
A Few Bonus Tips: 
Don't Underestimate the Power of Bonuses
There isn't any overhead with digital products, which is why it's easy to add bonuses to make them more enticing to customers. 
Bonuses are a powerful way to convince customers of the value of your offer. With the right bonuses, you'll be able to significantly increase your conversion rates. 
So don't be afraid to stack your offers in order to make your new product feel irresistible to visitors. You can test out different combinations of bonuses to see which one performs best with your customers.
Give New Customers a Deal
A great way to convince customers to try out your product is by offering a special rate so the purchase is a no-brainer. 
For the most part, you may find that customers who aren't willing to pay full price for your product can be convinced to try it out if it's offered at a lower rate, otherwise known as dynamic pricing.  
This type of one-time offer is a great foot-in-the-door technique because once you've converted the customer, and they find your product useful, they will be more likely to purchase from you again (and this time at the regular price). So don't shy away from giving out a discount the next time you collect payment or send an invoice.
By utilizing dynamic pricing and offering special rates on a one-time basis, you have the capacity to attract customers who are sensitive to prices.
This increases the likelihood of converting them into loyal buyers. When they experience the value of your product through the initial discount, they become more inclined to make future purchases at the regular price. As a result, invoicing software becomes a valuable tool in your sales strategy.
Therefore, why not take advantage of technology's power and implement invoicing software to optimize your customer acquisition and retention efforts?
Furthermore, the automation and efficiency provided by invoicing software allow your business to save valuable time and resources, enabling you to focus on enhancing your product and delivering exceptional customer service.
In addition to its seamless convenience, the free invoice generator transforms mundane tasks into a breeze.
No more wrestling with complex software or deciphering cryptic templates – just a few clicks, and voilà, your sleek and professional invoice is ready to impress.
But wait, there's more! This generator is a versatile sidekick that can also help you draft estimates and keep your financial game strong.
Use Online Challenges
There has been a growing popularity of online 3 to 5-day challenges that are conducted as a way to help customers achieve results faster. 
Creating a video series where attendees watch each day with corresponding "homework" assignments is a great way to interact with your audience, increase your trust score significantly, and boost demand for your digital product. 
For example, if your digital product is an online course designed to teach people how to write their first ebook, your 5-day challenge might consist of the following steps to help students:
Day #1:

Doing Your Research

Day #2:

Creating Your Ebook Outline

Day #3:

Writing the Actual Book

Day #4:

Adding Images and Links

Day #5:

Formatting, Editing, and Proofreading Your Book
Use Online Summits
Virtual events like summits and conferences are a popular marketing channel these days. They generally run from one to 10 days and participants can watch presentations and interviews from experts free of charge for a period of time each day. 
These types of events are usually value-packed, with many speakers presenting each day. The hosts then offer upsells to viewers so they can purchase the recordings or other digital products to use in their own time.
Conclusion
These are the 15 best strategies for driving more interest in your digital products. Implement them right now to start enjoying the many benefits, including an increase in demand for your products. 
Keep in mind that, as with any other business of true value, you're not likely to achieve overnight success. But, if you put in consistent work, you will be able to launch a profitable digital product and you'll have an effective strategy for generating customer demand.
And remember, not all the demand creation strategies listed here are relevant to all product launches. 
You must think about your niche and analyze your target market to get insights before making your choice of the strategies to apply in your business.
What other creative strategies do you know for increasing demand for your digital products? Share your thoughts in the comments below!