Disclosure: We sometimes use affiliate links which means that, at zero cost to you, we may earn a commission if you buy something through our links.
Webinar marketing is an effective strategy to generate leads and revenue at the same time. Not only that, the right webinar platforms make it easier to educate and retain your current customers.
Many B2B brands use it to grow faster than the competition and B2C brands across many industries are also waking up to the effectiveness of webinars. They're work because you can build a deeper relationship with prospects at scale.
Think of it as the perfect combination of one on one conversations and scalability. We're not waxing poetic on its benefits today. Instead, this guide focuses on the best webinar platforms out there.
It'll run through the top features, cons, the kind of customer each one is ideal for, and the current pricing. In the end, you'll have all the information you need to choose a solid webinar platform for your business.
Moreover, for an artificial intelligence development company, choosing the right webinar platform is paramount in effectively showcasing cutting-edge AI solutions to a global audience.
These platforms offer features tailored to meet the specific needs of AI developers, such as seamless integration with AI tools and APIs, advanced screen sharing capabilities for technical demonstrations, and robust analytics to measure engagement with potential clients and industry professionals.
On the topic of connectivity, it's crucial to acknowledge the advancements in webinar platforms offering seamless integrations with various applications and utilities. Take the union of webinar applications and CRM systems as an example; this integration augments personalized interactions, offering bespoke experiences to attendees.
Technological progression is not confined to collecting user data but extends to transforming these insights into implementable actions, enhancing the efficiency of subsequent engagements and enabling informed decision-making. This amalgamation of innovations is driving a shift towards a more adaptive, agile, and individualized mode of virtual engagement.
By leveraging the best webinar platform, an artificial intelligence development company can demonstrate their expertise, engage with a wide range of stakeholders, and drive growth in their business.
What is the Best Webinar Software?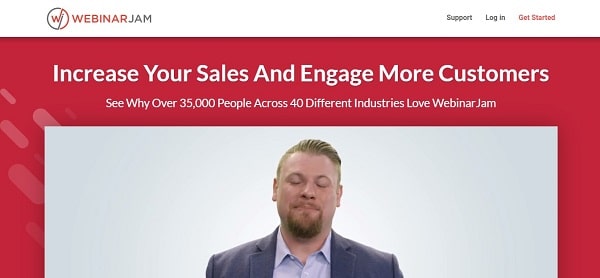 The first of the webinar platforms on this list is WebinarJam. It's designed to make it easy to host live events with thousands of people. Founded by veteran digital marketers, it has robust tools for creating an entire webinar funnel for lead generation and sales.
In addition to the core features, there's a training library that'll show you how to make the most of the software and webinars in general. Together, these features make WebinarJam one of the best webinar software solutions out there. You can read a full WebinarJam Review here.
Key Features
Host up to 5,000 members at once
Present with up to 6 speakers
Live chat, pinned messages/announcements
Automated event recording and replay it exactly as it happened live (elements appear, chats, etc.)
Landing page templates and built-in split testing
Email marketing features for pre and post-webinar follow up
Present offers and track conversions
Instantly reset your webinar in the case of technical mishaps
Registration and attendance stats
Automated evergreen webinars
Cons
Many people (we included) have experienced a delay from what's happening live and what's on the screen
It only has annual pricing plans
Who it's for
Marketers and entrepreneurs who are interested in streaming to a large audience live but don't need robust replay features.
Pricing
WebinarJam has three pricing tiers, all of which are billed annually. It starts at $479, then moves up to $783 for the middle tier and $997 for the highest package. It comes with a $1 60-day trial.
4.2/5 from 127 reviews on Capterra.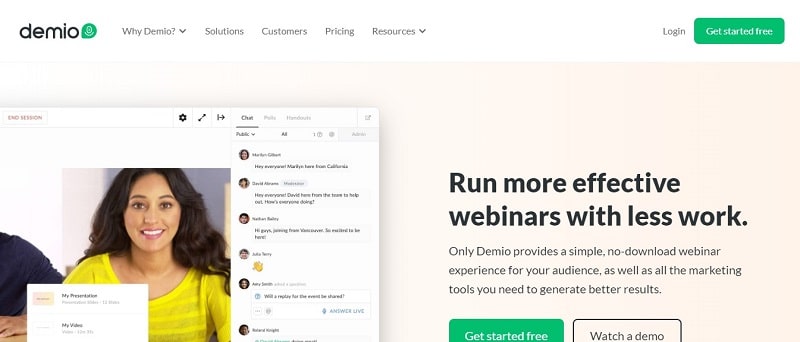 Demio is one of the few webinar software solutions built specifically for marketers. According to the team, the goal of Demio is to build a robust webinar platform that's easy to use. If you've ever used a webinar solution, you know it can be difficult to get up and running. The commitment to simplicity makes Demio one of the best webinar services available.
Key Features
Beautiful and intuitive user interface (for you and your attendees)
Built-in customizable landing pages
Add custom fields to registration forms
Polls, chat, and Q&A
Share downloadable marketing material the live event
Customized replay page
Analytics for registration and live participation
Integrations with major email marketing services and CRMs
Evergreen webinars that give the appearance of being live
Cons
Doesn't have dial-in capabilities
Pre and post-registration email analytics are lacking
Limited customization options for email
Who it's for
Marketers who want a simple-to-use webinar platform that doesn't have a steep learning curve.
Pricing
Demio has three pricing tiers. $49/m, $99/m, and $234/m with 50, 150, and 500 attendees respectively. It has a 14-day trial and a 30% discount on annual plans.
4.9 stars from 81 reviews on Capterra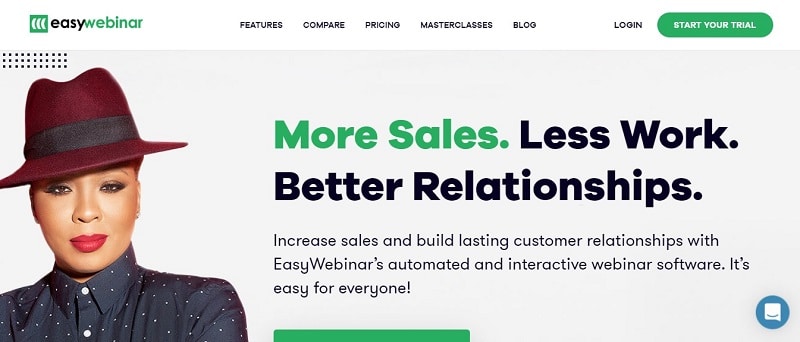 Easywebinar is a robust webinar tool that combines the interactions of a live presentation with the scalability of automation. It was built with rapid business growth in mind and has been proven across thousands of presentations and millions of attendees.
Key Features
Real-time streaming (no delay no matter how many participants)
Pass the camera to attendees and make them presenters
Present limited time offers directly from the presentation
Connect with YouTube live and remove attendee limits
One-click registration to boost conversions
Clone funnels with a few button clicks
Instantly create evergreen automated webinars
WordPress plugin to make the process easier
Cons
Set up can be confusing for first-time users
Doesn't host the video for automated webinars
Difficult to edit the default email templates
Who it's for
SaaS companies, authors, and consultants looking to build a deeper connection with their audience and generate revenue.
Pricing
Easywebinar has three pricing plans based on features and the number of attendees. It costs $78/m, $129/m, and $499/m for 100, 500, and 2,000 attendees respectively. It has a 14-day trial and 3 months free on annual plans.
4.4 stars from 57 reviews on Capterra
In our current era of technological progress, AI tools are transforming interactions within digital environments, particularly in the realm of webinar platforms. Such tools are adept at streamlining processes and automating aspects such as participant interaction and the customization of content.
By adopting these advanced tools, the platforms are elevating their hosting capabilities, providing more engaging and adaptable experiences for both the organizers and participants of these digital events. Discover the capabilities of AI in elevating the quality of digital gatherings!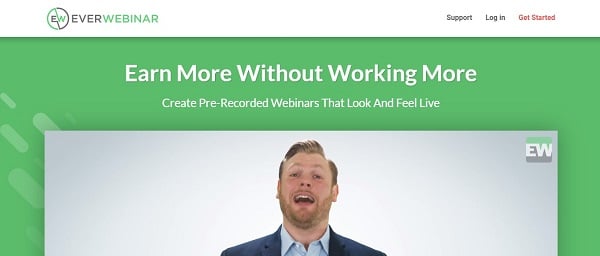 Everwebinar is from the developers of WebinarJam. While WebinarJam focuses on live webinars, Everwebinar is dedicated to automating webinars you've already recorded. It's the perfect option if you have a presentation that's proven to convert viewers to sales or if you have an ongoing training series that's ideal for generating leads.
Key Features
Create automated webinars for specific dates or recurring
Just in time webinars that start a few minutes after registration
Block out sessions that would otherwise happen in the dead of night
Activate offers as the exact minute and second as when you're presenting it on the screen
Turn WebinarJam sessions into automated webinars with a click
Dynamic visitor counts throughout playback
Live chat simulator
Deep analytics at every step of the way (traffic, signup conversions, show-up rate, replay/live stream stats, etc.)
Email marketing and SMS
Cons
Doesn't host your recordings
Limited SMS marketing integrations
The user interface is can be difficult to learn
Who it's for
Marketers, entrepreneurs, and consultants who've proven the effectiveness of their webinar and want to scale.
Pricing
Everwebinar costs $497 and comes with a 60 day, $1 trial.
4.2/5 – from 127 reviews on Capterra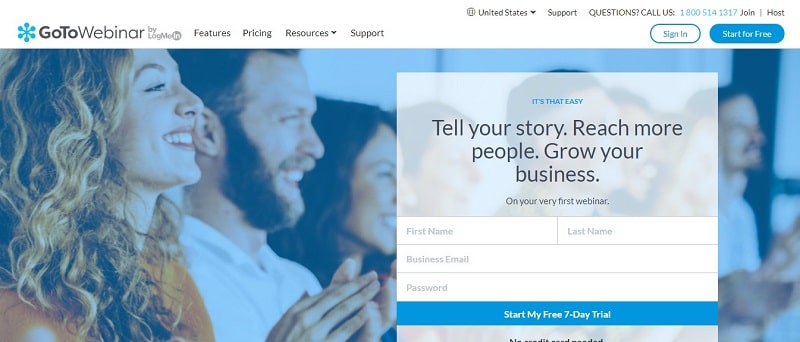 GoToWebinar is an older player in the webinar software space. It has tens of thousands of customers and hosts millions of webinars a year. It's a proven choice when it comes to hosting your webinar. In addition to the webinar platform, it has a large resource library to help you get up and running quickly.
Key Features
Manage invitations and follow up emails
Send polls to your attendees
Clear data on attendees and registrants
Channel page for on-demand webinars
Prerecorded events
Integrations with major CRMs and email marketing services
Track referral source for registrations
Open API to build on top of GoToWebinar
Mobile app
Drawing tools to engage your audience
Cons
Limited customization options for forms and landing pages
Attendees have to download a plugin to access the webinar
Tech support has been steadily declining in quality
Who it's for
It's for organizations that want to get many users on the platform running webinars and marketing teams.
Pricing
GoToWebinar has three pricing tiers based on the number of users and features. It costs $109/m, $249/m, or $499/m for 100, 500, and 1,000 users respectively. There's a 7-day trial and a 20% discount for annual plans.
4.5 stars on Capterra from 1066 reviews.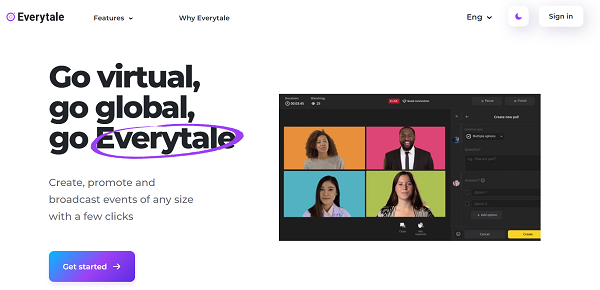 Everytale is a streaming platform that makes it possible for people to explore a wide range of interesting topics. Everytale is a webinar platform cum marketplace which allows educators and event organizers to host casual and formal events alike.There are a lot more features built into Everytale as well. Content creators and publishers can easily attract traffic to their events and accept payments thanks to the easy-to-understand analytics and payment integrations of an online payment gateway.
Key features
Live 4K video streaming platform.
Integrated with advanced artificial intelligence.
Up to 100.000 people can stream simultaneously.
Support for Stripe payments
Integrated engagement tools like polls and surveys
Invite speakers/hosts to your events
Schedule or send reminders to your audience
Post event analytics
Cons
A knowledge base or FAQ is missing
Text to speech is not live on the platform.
Who it's for
The platform is a great fit webinar marketers and video marketers who need a wide range of engagement features at their fingertips.
Pricing
Everytale, believe it or not, is free through and through for now.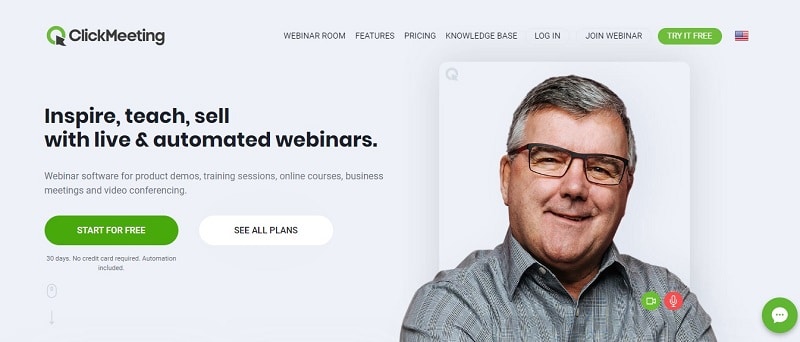 Clickmeeting is a solid webinar service that's been around for a number of years. The platform has been tested with thousands of people in the same event while streaming for hours. Needless to say, they have their technical chops in order but let's look at the features to see if they're worth it.
Key features
Paywall for webinars
Webinar automation at scale
Custom fields in the registration page
The waiting room can be customized with the presentation agenda
Stream on both Facebook and YouTube
Use a whiteboard to explain concepts
Use surveys and polls to understand your audience
Allow attendees to rate your performance and find areas to improve
Cons
It's tricky for new users to learn the system
Can't reschedule the date of the webinar without changing the link as well
Slight delay between what's happening live and what's being seen on the screen
Who it's for
Marketers and teams who want to combine live and automated software to generate engagement and sales
Pricing
Pricing is based on the number of attendees you want to host. It ranges from $35/m for 25 attendees up to $359/m for 1,000 attendees.
4.2 stars from 32 reviews on Capterra.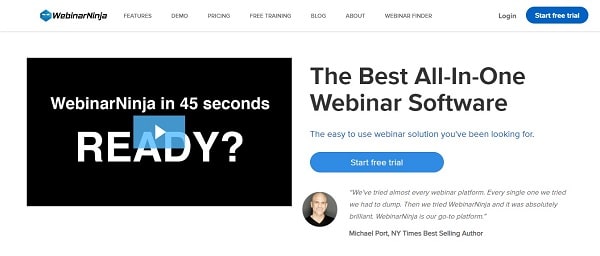 WebinarNinja is a relatively new tool for webinar hosting which is making a name for itself through a robust feature set and exceptional design. It's trusted by large internet brands like AppSumo and is considered easy-to-use by many of its customers.
Key Features
Choose between multiple types of webinars (live, hybrid, automated)
Create offers and display them within your live event
Insert videos during a live event
Blackout specific dates and times for automated webinars
Control your event email marketing from within the webinar platform
Simple media library to keep all your marketing collateral
Granular statistics about registrations, attendance, participation, etc.
Training resources to help you optimize your webinars over time
Facebook streaming options
Cons
Duplicating webinars leaves a few options like offers behind so they need to be recreated
It seems you can't delete webinars that are no longer needed
Can't change host's name on individual webinars
Who it's for
WebinarNinja is ideal for software companies, consultants, authors, and marketers looking to handle all their webinar needs under one roof.
Pricing
Pricing is based on the number of attendees that can join a room and features. It costs $49/m, $95/m, $159/m, and $249/m for 100, 300, 500, and 1,000 attendees respectively. It has a 14-day free trial and you save 20% when you pay annually.
4.4 stars from 133 reviews on Capterra.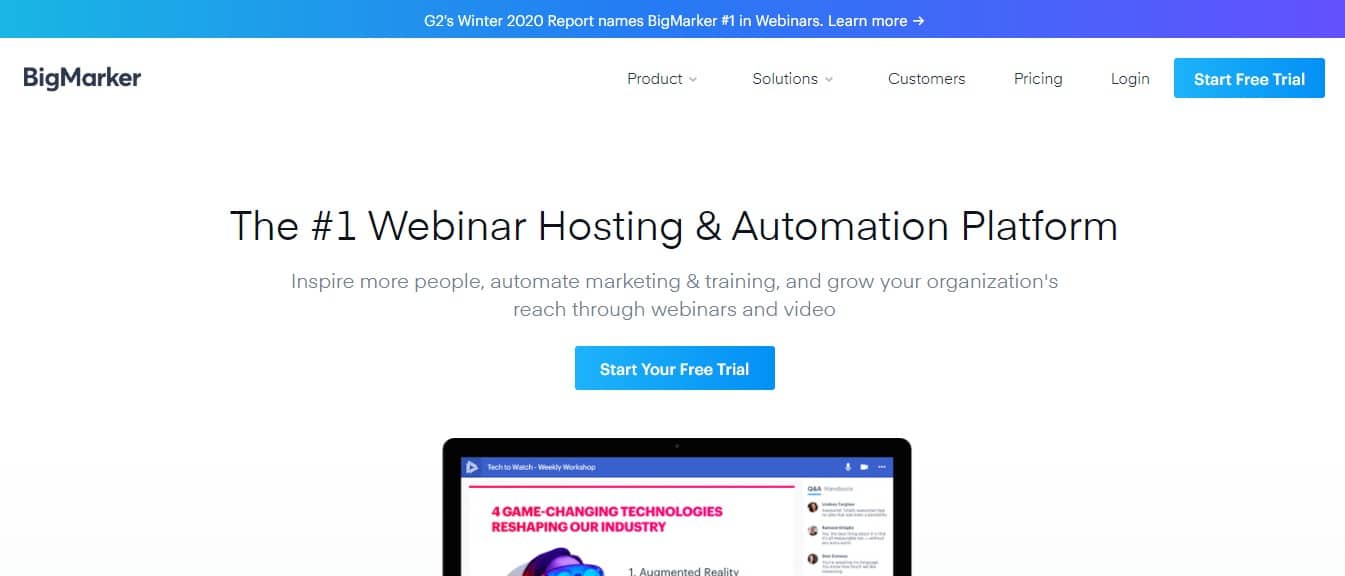 BigMarker is a relatively new among the webinar platforms but it's making solid strides. It has a robust feature set that many of the other platforms can't match. In addition to the core software, there are add-on services for marketing and webinar creation that'll ensure you get the most out of the platform.
Key Features
Multiple types of webinars such as live, on-demand, automated, and series
Can create channels with specific themes to engage your audience
Fully customizable channel branding
Multiple landing page templates
Manage pre and post-registration email flows
Detailed analytics into the effectiveness of your webinar
Create simple polls/surveys to better understand your audience
No presenter limit
Whiteboards for engagement
Embed live webinars directly on your website
Simultaneously present on Facebook and Twitter
Cons
Limited options with the evergreen webinar
The app can be slow which affects your work speed
There are so many options that it can be overwhelming
Who it's for
It's ideal for teams who want to step up their webinar marketing and video marketing game and need a platform with a wide range of features.
Pricing
Pricing is based on features and the number of attendees. It ranges from $89/m, $199/m, and $399/m for 100, 500, and 1000 attendees. There's also enterprise pricing which allows you to have up to 10,000 attendees. There's a 7-day free trial and savings on the annual plan.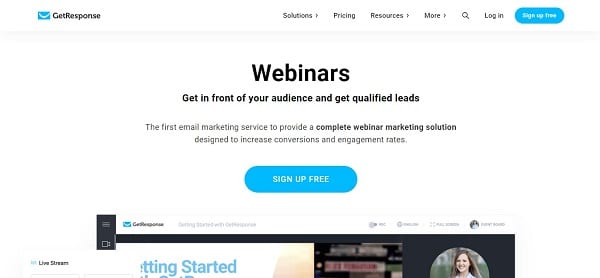 GetResponse, in terms of internet age, is ancient. It started as a simple email marketing and autoresponder tool and has since developed into an all in one business toolkit. Part of that toolkit includes webinars to help you grow your audience and generate revenue.
Key Features
No software downloads needed to access the webinar room
Livestream to Facebook and YouTube
Distribute documents directly from your live presentation
CTA for offers within the presentation
Robust email automation features for pre and post-webinar messaging
Record up to 6 hours of your live webinar
Handles storage for your video files
Mobile app to make it easier for you and attendees
Reporting to help you make better decisions
Cons
Smallest plan doesn't come with webinars
So many aspects of the application that it can be confusing
Not a good choice if you only want webinars because it's a complete marketing suite
Who it's for
GetResponse is a full marketing suite so it's ideal for entrepreneurs and consultants who want to manage their entire operation from one platform.
Pricing
Pricing varies widely because it's contingent on the number of contacts you have. For webinars, it starts at $49/m up to $1,190/m. If you have a list of less than 10,000 then you'll pay, at most, $165/m for the webinar platform. It has a 30-day trial.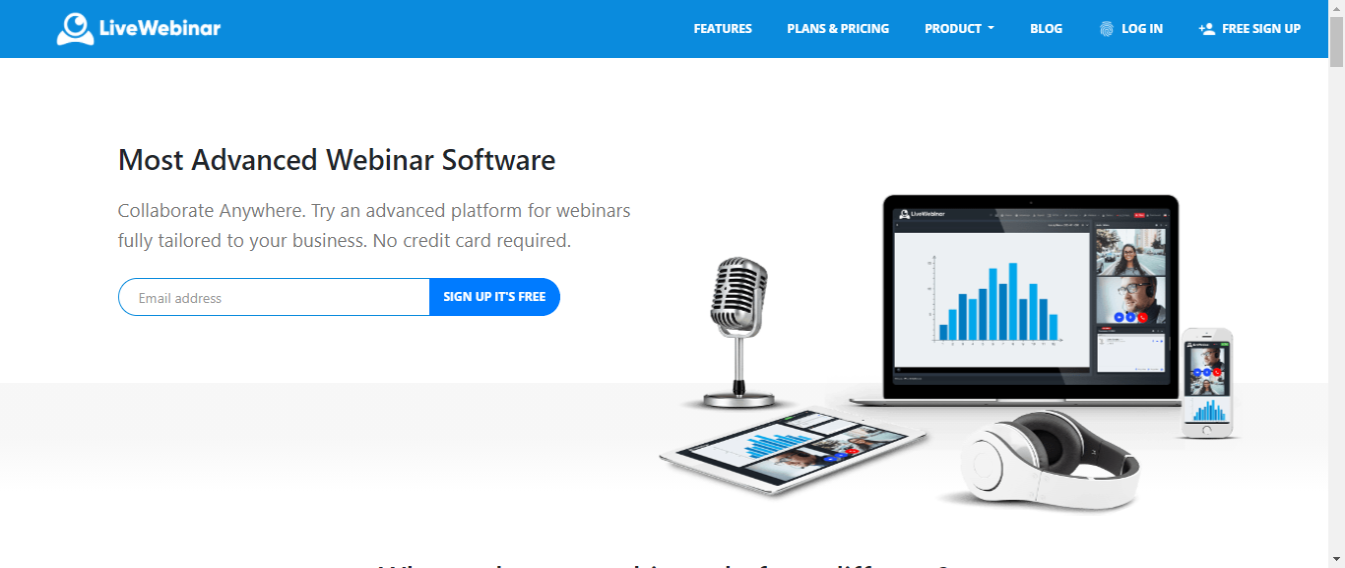 LiveWebinar is a webinar software solution that can do the job of many different platforms in one convenient package. Whether you're a small business owner or head of a big company, a teacher, or anyone who needs a versatile and customizable communication solution, LiveWebinar is for you.
LiveWebinar is completely browser based and supported by all major browsers. There are no downloads or plugins required, all you need is a stable Internet connection.
Key Features
Over 50 webinar room features offered, including whiteboards, breakout rooms, chat boxes, polls and tests, screen sharing, and more.
Plenty of integrations offered with third party apps.
You can record your webinars to keep for later redistribution or to turn into evergreen content.
You have the ability to embed your webinar room on your own site.
Brand your meeting room with your company's logo and colors, creating a cohesive look.
Upload presentations and other materials to your LiveWebinar account before the meetings and present them directly to your audience, rather than through screen sharing.
Create your own registration and leads forms to collect information needed to generate email or client lists.
As the host, you can implement your own security measures by adding a waiting room for your attendees, or turn on password or token passwords options to further secure your room.
No plugins or downloads needed.
Highly versatile: has an interchangeable interface that can be used to host webinars or meetings (or anything in between!).
Ease of use: the platform is highly intuitive, and has great interoperability as it works on all smart devices and major browsers.
Users can set up sub accounts that are connected to one master account (useful in the case of a company where a boss sets up a master account and department heads each have a connected sub account).
An Enterprise package is available for those who want something that 100% customizable and their own.
Cons
Doesn't include minute management
Doesn't include task management
User interface may be confusing at first
Who it's for
Marketers, teachers, online courses' creators, online events' organizers
Pricing
LiveWebinar has four pricing tiers: You can test the platform with a fourteen-day free trial, and get a 20% for annual plans.
PRO: you can host webinars with up to 100 attendees and get standard features for $14.99 per month.
BUSINESS: allows up to 500 attendees a webinar and more advanced features for $119.00/month
CUSTOM: up to 1000 attendees can join your webinar. Prices for this package can vary, as you are able customize the features and add-ons you'd like to have.
ENTERPRISE: this package is geared toward large business who want to have a platform that's based on LiveWebinar but under their domain and created with their needs in mind.
4.8 stars from 93 reviews on Capterra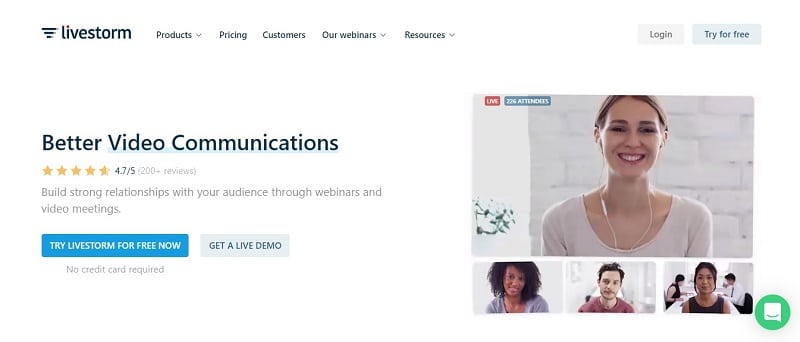 Livestorm is a one on one and one to many free webinar service. Yes, it's the first free webinar software on this list but the free plan is quite limited. This is for good reason. Webinar services can be expensive to run and maintain but it's enough to get started and test the webinar service.
Key Features
Recorded webinars
On-demand webinars
Live events
Can be viewed and hosted without downloading any extra apps
Play videos during a live session
Polls, chats, and audience spotlight
Embed the signup form on any page of your website
Forms support custom fields on registration
Track source of registrant and actions taken with a visual funnel
Unlimited recording storage
Send emails through the platform and personalize with multiple variables
Cons
The dialing in function can be confusing for end-users
A lot of manual repetition needed to set up another webinar (emails, settings, designs, etc.)
Product development is slow at times so be prepared to wait for a feature you've been requesting
Who it's for
It's ideal for both distributed teams who'd like to communicate regularly and marketing teams who want an intuitive webinar platform.
Pricing
It starts with a free plan then has a meeting and webinar plan. The meeting plan starts at $39/host/month and the Webinar plan starts at $109/host/month and comes with 100 attendees. You can get more attendees as an add-on.
4.8 stars from 99 reviews on Capterra.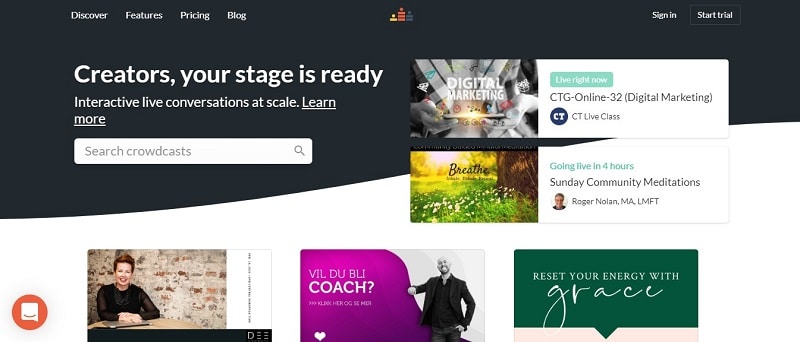 Crowdcast is a webinar hosting service aimed at creators. Everything about the tool reflects this overall mission. It has a cheaper starting price point and comes with features many corporate users wouldn't need. This is by no means a bad thing, just something to keep in mind.
Key features
Direct integration with Patreon so you can hold a live stream for your backers
Stripe and PayPal integrations
Manage email marketing for the event
Q&A, chat, and polls for better audience engagement
Zapier integrations allow you to connect your data with hundreds of tools
Attendees can follow you and automatically be updated about upcoming events
Embeddable on any page of your website
Duplicate events with a click
Event analytics (registrations, referrers, event engagement, etc.)
Cons
Register unlimited people but only a specific number can join your webinar so some may be locked out
Lack of direct integrations so if you're using it at scale, it'll require an additional subscription
Large live streams can freeze the system and lock attendees out
Who it's for
This software has a clear focus on serving creators from all industries and niches.
Pricing
Pricing is based on features and attendees. It costs $29/m, $49/m, $89/m, and $195/m for 50, 100, 250, and 1,000 attendees respectively. It comes with a 14-day trial and 30% annual savings.
4.7 stars from 89 reviews on Capterra.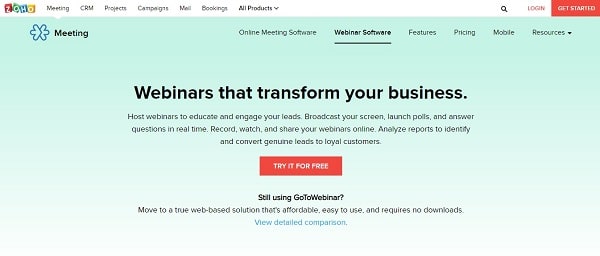 Zoho is the everything software. Zoho meetings is the webinar software arm and it does the things you'd expect fairly well. With that being said, nothing it does will amaze you. It's a great choice if you already use their software suite (or are planning on switching) and want to manage everything under one roof.
Key features
Everything handled online – no downloads
Mobile apps for attendees
Sync with your calendar
Track the essentials with the built-in analytics
Questions, polls, and attendee spotlight
Customize the registration forms and embed them anywhere
Automatically record your events
Cons
Video streaming can be unreliable at times
The dial-in numbers are restricted to just a few countries
The customer support is relatively slow (2+ days)
Who it's for
Small businesses and marketers who don't need too many advanced features but still want to experience the power of webinars first hand.
Pricing
For webinars, it starts at $19/host/month for up to 25 attendees and can go up to $79/host/month for 250 attendees.
4.5 stars from 155 reviews on Capterra.
15.           WebEx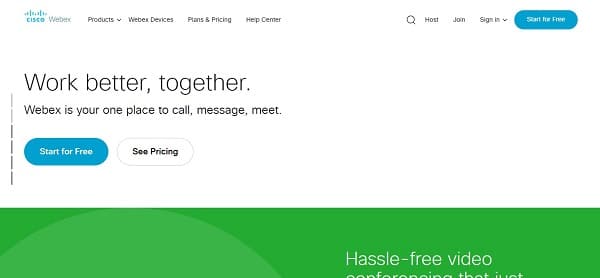 WebEx is a multifaceted platform that positions itself as much more than a webinar hosting tool. Its focus is on teamwork, customer support, and using webinars for customer engagement. If you need more than just a webinar tool then it's a great option.
Key features
AI and machine learning features for team collaboration
Record your webinars with a single click
Poll and chat with your audience
Brand your webinar invitations and registration page
Support multiple presenters at once
No software downloads
Simple screen sharing
Can support tens of thousands of attendees
Have their own devices to deliver a seamless experience
Cons
Can't manage emails from the platform
Many user controls are hidden which means you have to click more than necessary
Support isn't knowledgeable about advanced technical issues
Who it's for
Larger teams who want to handle both customer support, training, and sales from a single platform.
Pricing
Pricing is tailored to each company so it's not publicly available. You have to talk to a sales rep.
4.4 stars from 3693 reviews on Capterra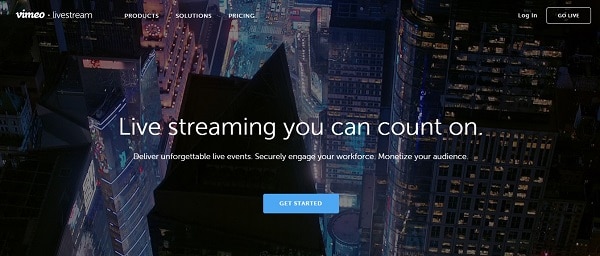 Livestream is a Vimeo company that allows you to deliver seamless presentations to your audience and monetize faster. It hosts everything in the cloud so you can access the platform and set up a webinar at any place and at any time.
Key features
Live chat with attendees
Seamless live streaming
On-demand training
Organize video collections
Implement CTAs to turn viewers into customers
Get analytics on engagement, locations, and more
Live polls and Q&A sessions
Stream to Facebook Live or YouTube
Cons
Limited pricing options
Cannot manage email from the platform
It's more geared towards internal communications instead of webinars
Pricing
It costs $75/year.
4.7 stars from 13 reviews on Capterra
Webinars On Air is an affordable webinar platform that makes it possible to get and running quickly without the hefty price tag. It has a laser focus on making webinars as good as possible for those who aren't technically inclined. This is achieved by with a simple interface for you and the people who register.
Key Features
One-click registration
Automated webinars
User-friendly design
Ability to integrate tracking pixels for better reporting
Make offers directly from your presentation
Polls and Q&A
Embed registration forms on your website
Cons
Cannot manage email marketing through the app
Limited integration ecosystem
Pricing:
Plans are based on the number of attendees. It starts at $19.97 for 25 attendees but you can get unlimited attendees for $99/m.
Update: They're no longer accepting new customers due to technical upgrades.
5 stars from 1 review on Capterra
18.           Zoom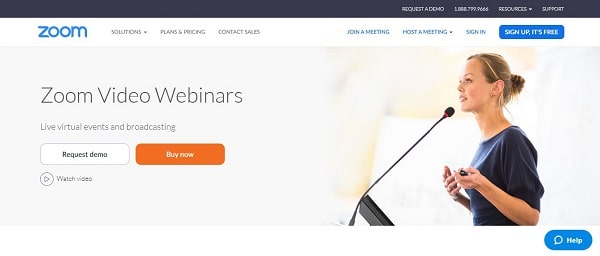 Zoom is the elephant in the room when it comes to video conferencing and is making inroads into the webinar space. It doesn't have many of the features of the other platforms but it's one of the only truly free webinar software solutions out there. The team behind it is constantly developing new features.
Key Features
PayPal integration via Zapier to charge for webinars
Customize key touchpoints to match your brand
Chat and Q&A features
Robust live streaming capabilities
Get stats on registrations, engagement, attendee show up rate, and more
Set up on-demand and recurring webinars
Up to 100 live video panelists
Live event assistance from the team
Cons
Participants have to download software to join a webinar
Issues with playing videos through Zoom while presenting
So many features that the learning curve can be high
Who it's for
Zoom is for large and small teams who want to do video conferencing and no-frills webinars.
Pricing
It has a free plan then it charges based on the number of hosts. It costs $14.99/host/month, $19.99/host/month (minimum of 10 hosts) and $19.99/host/month (minimum of 50 hosts). It also has multiple add-ons you can purchase.
4.6 stars from 3914 reviews on Capterra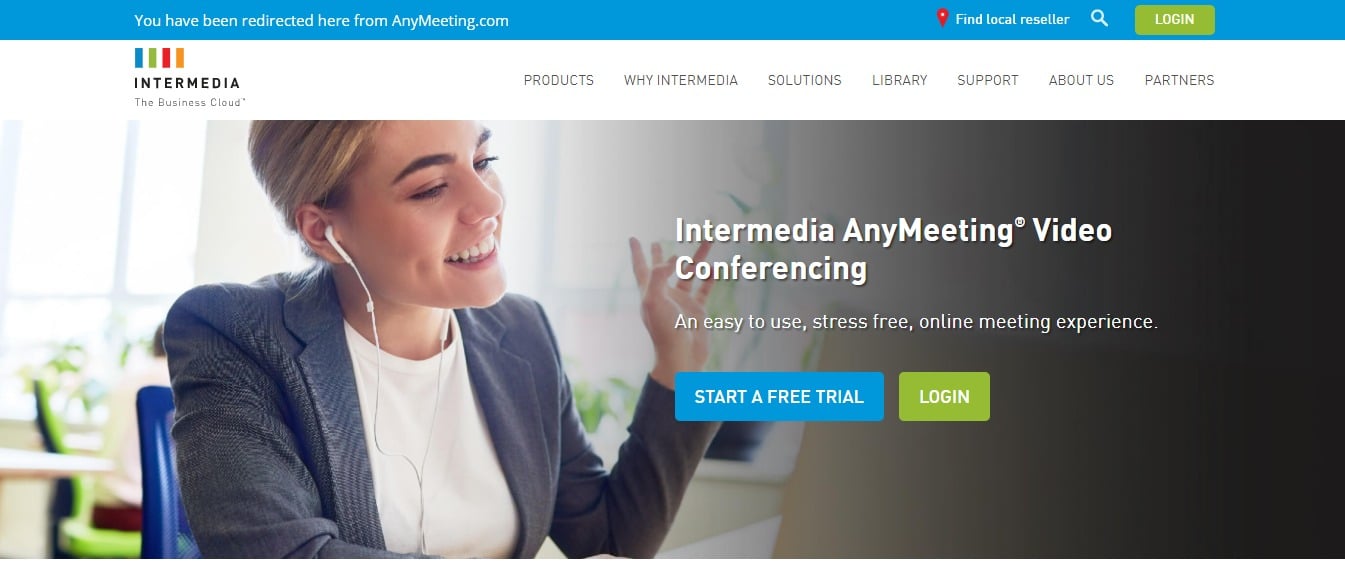 AnyMeeting is a product of the team from Intermedia. It's designed to make online meetings and webinars a pleasant experience for everyone involved. It has all the features you'd expect from a top webinar platform but it is a bit more expensive than many on this list.
Key features
Stream live presentations with up to 12 presenters
Users can dial in if their internet connection is poor
Chat, polls, and Q&A for attendees
Custom forms and pages for registration
Reporting on attendee show up rates
Handle email marketing from within the platform
Up to 1,000 attendees
Screen sharing capabilities
Cons
Takes up more resources than needed on your computer
The interface is due for an update
Occasional timing delays
Pricing
The plans have all features but are restricted based on the number of possible attendees. It costs $49/user/m, $128/user/month, and $298/user/month for 50, 200, and 1,000 attendees respectively.
4.2 stars from 17 reviews on Capterra.
What is a webinar?
A webinar is an online seminar or conference with one or multiple hosts that transforms static presentations into real-time conversations with people from anywhere in the world. It allows you to reach a larger audience in a way that's personal and engaging while sharing documents, notes, and other collateral.
As virtual classrooms gain popularity, webinar platforms have also become integral to eLearning. In the academe, webinars are essentially online courses that top accredited online colleges and universities offer, providing a convenient and accessible way for students to learn and acquire knowledge.
In the business world, webinars are used as a lead generation device, customer retention strategy, and more commonly, a sales channel.
Webinars are used as a lead generation device, customer retention strategy, and more commonly, a sales channel.
What's the Best Webinar Platform for you?
That's only a question you can ask. In this guide, we've broken down 17 webinar platforms that have different features, serve different types of businesses and will get you different results.
It's up to you to take that information, evaluate your current situation, and make the best decision for yourself. Our picks are WebinarJam, Demio, and Easywebinar. With those, it's hard to go wrong but all of them have a trial available so don't feel like you're stuck once you decide to test one out.